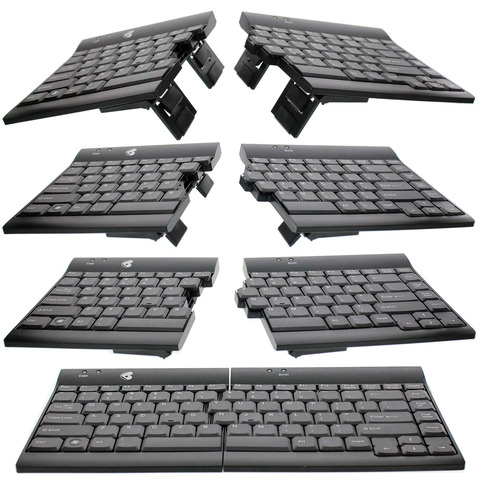 UltraErgo Wireless RF Split Keyboard
$119.95 (YOU SAVE $10.00)

Quiet and soft tactile touch which offers an incredibly comfortable keystroke while typing.
Incase the product you want is out of stock, please contact us. We can update you on availability or offer alternative solutions. We're here to help you get what you need.
Introducing the new UltraErgo Wireless RF Keyboard from OysterErgonomics
You don't need to look any further than the Ultra Ergo Keyboard for your ideal keyboard solution for the office, home or on the go. The Ultra Ergo Keyboard from OysterErgonomics is the ultimate in mobility, ultimate in function and ultimate in ergonomic design. Don't let this sleek, thin and lightweight design fool you – it is incredibly sturdy and can stand up to the rigors of travel and the office.
The Ultra Ergo Keyboard can go from a home workstation to the office to a coffee station with ease.  The split keyboard and 3 height adjustments offers more range for finding your proper ergonomic typing position while the compact design doesn't take up as much desk space as other ergonomic keyboards do.  Combine this keyboard with a thin laptop stand and you have the ultimate in ergo-on-the-go computer equipment. 
Four Possible Positions: 0˚, 5˚, 10˚, 20˚
Key Size: Full-size 3/4″ keys
Key-in Force: 55g ± 5g
Operating Key Travel Distance: 2.25 ± .30 mm
Full Key Travel Distance: 2.50 ± .30 mm (force of 120g)
2.00 ± .43 mm
Key Structure: Symmetrical scissor-switch and rubber dome design
12″ x 6″x 0.48"
10-key Footprint: 3" x 6" x 0.48" (this is not included with Keyboard Only)
Complies With: CE & FCC
Compatibility PC & Mac
Wireless Interface:RF2.4Mhz with USB Dongle with Rechargeable Battery
Warranty: extends 2 years from production date (first four numbers of the serial number represent Year & month), and does not cover rubbed-off key print, removed keys and dirt & grime inside the keyboard leading to certain key(s) not working. Keyboard is free from led (PB)
Read more: Bakker Elkhuizen S-board 840 Compact Ergonomic Keyboard (USB)
Extends 2 years from production date (first four numbers of the serial number represent Year & month), and does not cover rubbed-off key print, removed keys and dirt & grime inside the keyboard leading to certain key(s) not working. Keyboard is free from led (PB)
1. one-of-a-kind keyboard
Posted by Unknown on 6th Feb 2015
I've been looking for keyboard like this for a long time. This is the only keyboard I've ever seen which let you place the two half an indefinite distance apart. It's a small portable lap top style keyboard. If you like the feel of a laptop keyboard then you'll like this keyboard. The only negative of this keyboard is like a laptop keyboard some of the keys like the home and insert buttons are in a slightly different place. I would've probably preferred a mechanical keyboard with standard placement of keys but one advantage of this keyboard is that it's small enough to take with you when you travel. The dongle is tiny and snaps into the keyboard so you won't lose it.
2. only one if its kind: stellar keyboard
Posted by Unknown on 30th Dec 2014
Ergoprise isn't doing this fine product justice and these days anyone savvy enough to shop online expects independent reviews to REALLY know what they're buying. So here I am. If you dont wan't to read the details skip here is the TL;DR version:
The keyboard is comfortable, lightweight, easy to setup, easy to use, hassle-free and has all the features that you are looking for in a wireless split keyboard. Now onto the details…
CONNECTING TO THE PC:
I was lucky enough to receive a newer model of the keyboard than the previous reviewer, so this keyboard doesn't need a USB dongle to connect. As I type this review, I am reclining in my chair 5 feet from the pc viewing the page on a 32" tv. This is killer. This can only happen because its connected wirelessly. I'm not sure about the type ( bluetooth vs some other wireless protocol ) but I could care less. I connected the halves to the pc once for the setup, and sometimes to charge the keyboard ( next point ). The keyboard was recognized near instantly by Windows 7 and Ubuntu 14.04, so they are using some common driver / interface / protocol w/e that is fuss free.
CHARGING / BATTERY LIFE:
charging is done through usb cables. only one comes with the keyboard, though you can get one for 3.00 on ebay, or if you have a ps3, just use the usb cable that you have already. I'm not 100% sure if both can be charged at the same time, but I've plugged in both halves and both power-indicating LED's were on. So that's a … yes. Thing is, it's a moot point considering how infrequently you need to charge them. I thiiink the last time I charged them was a week ago. If I had known this before I wouldn't have hesitated to buy them.
FEEL / FORM:
Comfort is a subjective matter, so it's a shame there are only 2 reviews now. But I'll lay it on you straight. This keyboard is nice. The usual keyboard has clackity feel which IS nice for tactile feedback. Not nearly as nice a mechanical switch keyboard, but still good. This keyboard gives less feedback than a regular keyboard, which is good or bad depending on what quality you're looking for. They're quieter than the generic keyboard, but the lack of feedback is a hindrance on super-fast typing. I can still type quickly on this keyboard just not blazingly fast. Having said that, I am happy with the everyday feel of typing and can type for 10 hours without any problems. The ONE issue I take is the placement of a key to the left of the spacebar. It's not ALT, like you'd expect. It's ' \ ', identical to the one above your enter key, except that pressing it yields a '<' or ','. Re-mapping it in any linux OS or even Windows shouldn't be an issue, just wanted to let oddity be known.
The build quality is sturdy. I tried to bend the plastic with moderate force and I couldn't. And these things are 3/4 of an inch thick, so not only are they slim / light, they're also sturdy. The stand that places the keyboard at a 5 – 20 degree angle can be detached, and attaches FIRMLY to the underside of the keyboard. The rubber grips are nice.
So there you have it. If you're looking for a truly wireless keyboard, as in putting the halves on an the armrests of a chair and sitting away from your pc, these are your only option. Trust me, I looked. Even if you don't need this specific quality in a split keyboard, I recommend these since they are portable, are of high quality, and do allow for greater adjustability. Seriously if you had a "dream" keyboard and you could purchase it for $10.00 would it include wires? Yeah, didn't think so.
I would recommend this to people who do transcribing, data entry, and well just about any other work that requires extensive typing. Getting a proper ergonomic setup for work is going to prevent pain which is a no-brainer. It's also going to keep you happy. It's going to prevent shoulder pain, elbow pain, and most importantly, wrist pain if you adjust the angle correctly ( I have mine at a negative tilt: google it ).
if you're a linux user and dream of going completely mouse-free in some ultra-nerd setup, welcome. tears of joy await. buy immediately. Combine a tiling WM ( window manager ), tmux, vim, and vim-like addin like pentadatcyl or vimperator and you'll never have to touch the mouse again. Attached is my everyday setup, which again is ONLY possible with THIS keyboard.
http://postimg.org/image/f209hmb6t/
http://postimg.org/image/l47w83zmt/
3. Has everything you need, but is lacking some obvious engineering
Posted by Reesha on 8th Aug 2014
This is a great alternative to the Kinesis because
1) it has smooth chiclet keys that require less force to press down
2) is cheaper to buy.
As a split keyboard over all, it's wonderful. I can position the two halves however I want, which is important since sometimes I need them in one position for lots of typing and a different position for gaming.
There could be a few obvious improvements, though:
1) The keyboard connects using a USB dongle. Why it doesn't have blue tooth capabilities I don't know. I already have an ergonomic mouse that requires a USB slot and it's annoying to have to unplug one or the other if I want to use a flash drive. If you're low on ports, consider what it would be like having one less to work with.
2) It is run on a rechargeable battery, which I like, but only one half of the keyboard can be charged at a time, and only through USB connected to the computer. This is a bit annoying, but I can live with it. It just makes me wonder why I spent extra money to get the wireless version if I'm going to have it plugged into my computer anyway to charge.
A few things they don't mention on the product page that I would have liked to know about:
The feet are rubber and have awesome grip.
The stands that prop it up are separate pieces, so when packing it up to travel, you have to keep track of more than just the two keyboard halves.
The learning curve is going to be about 2-3 days of normal use. On a regular keyboard, I could type 110 wpm. It's took me 3 days just to stop making typos, and I'm still not up to my usual speed, though I expect that will come with more practice.
The windows logo key operates exactly like the command or apple key on a mac keyboard. But there's only one of them on the left side, so you'll have to get used to using your left hand for command shortcuts.
The F1 – F12 keys operate like normal and do not sync with the special features they have on a Mac keyboard.
There is a wide strip of black plastic at the top and bottom (I assume one of them houses the battery). They make it seem bigger than a regular keyboard and make it almost impossible to use at a coffee shop. But, ergonomics go out the window at a coffee shop anyways.
Other than that, the customer service was very helpful. I asked lots of questions via live chat that they either answered or were honest enough to say they didn't know. The shipping was fast. Setting up the keyboard out of the box was quick and easy.
I'm very glad to have this keyboard, and glad to have only paid $120 for it. I'm still not sure if the $90 wired version wouldn't have been a better choice, but regardless, the feel of this model is exactly what I needed. Whether typing out my 400 page novel with the two halves at a 45 degree angle, or playing Minecraft for hours on end at near 90 degrees, this keyboard has eliminated the stress on my fingers and my hands no longer hurt. It's freedom.