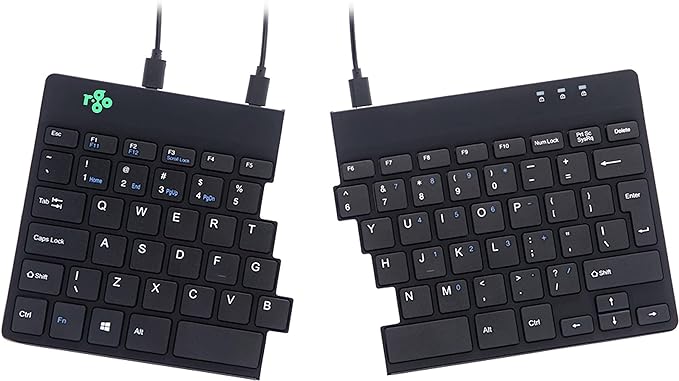 The R-GO Split Wired Ergonomic (QWERTY) Keyboard
Usually ships within 3 – 5 Business Days

Incase the product you want is out of stock, please contact us. We can update you on availability or offer alternative solutions. We're here to help you get what you need.
This split keyboard offers all the ergonomic feature sets that anyone needs to enjoy a health pain-free work environment.
Its compact design ensures that while utilizing both the mouse and keyboard, your hands always remain within shoulders width, which is the ideal typing and mousing posture. The two components can be placed in any desired position. This unique design prevents reaching with the arm and ensures a natural and relaxed position of the shoulders, elbows, and wrists. Thanks to the ultra-light tactile key-stroke, there is a minimal amount of muscle tension while typing. The thin design ensures a relaxed, flat position of the hands and wrists while typing. The keyboard is lightweight and because it consists of two parts, it easily fits into any laptop bag.
Read more: S2S Dual Sit-Stand Workstation
Specifications:
MODEL AND FUNCCTION:
| | |
| --- | --- |
| Model: | Split keyboard |
| Keyboard layout: | QWERTY (United States) |
| Other options: | Integrated numeric keyboard |
CONNECTION:
| | |
| --- | --- |
| Connection: | Wired |
| Cable Length (mm): | 1500 |
SYSTEM REQUIREMENTS:
| | |
| --- | --- |
| Compatibility: | Windows, Linux |
| Installation: | Plug & play |
GENERAL:
| | |
| --- | --- |
| length (mm): | 288 |
| width (mm): | 137 |
| height (mm): | 9 |
| weight (gram): | 296 |
| Product material: | Plastic |
| Color: | Black |
Read more: S2S Sit Stand Workstation: Comfort & Productivity
You can visit our Youtube Channel at :