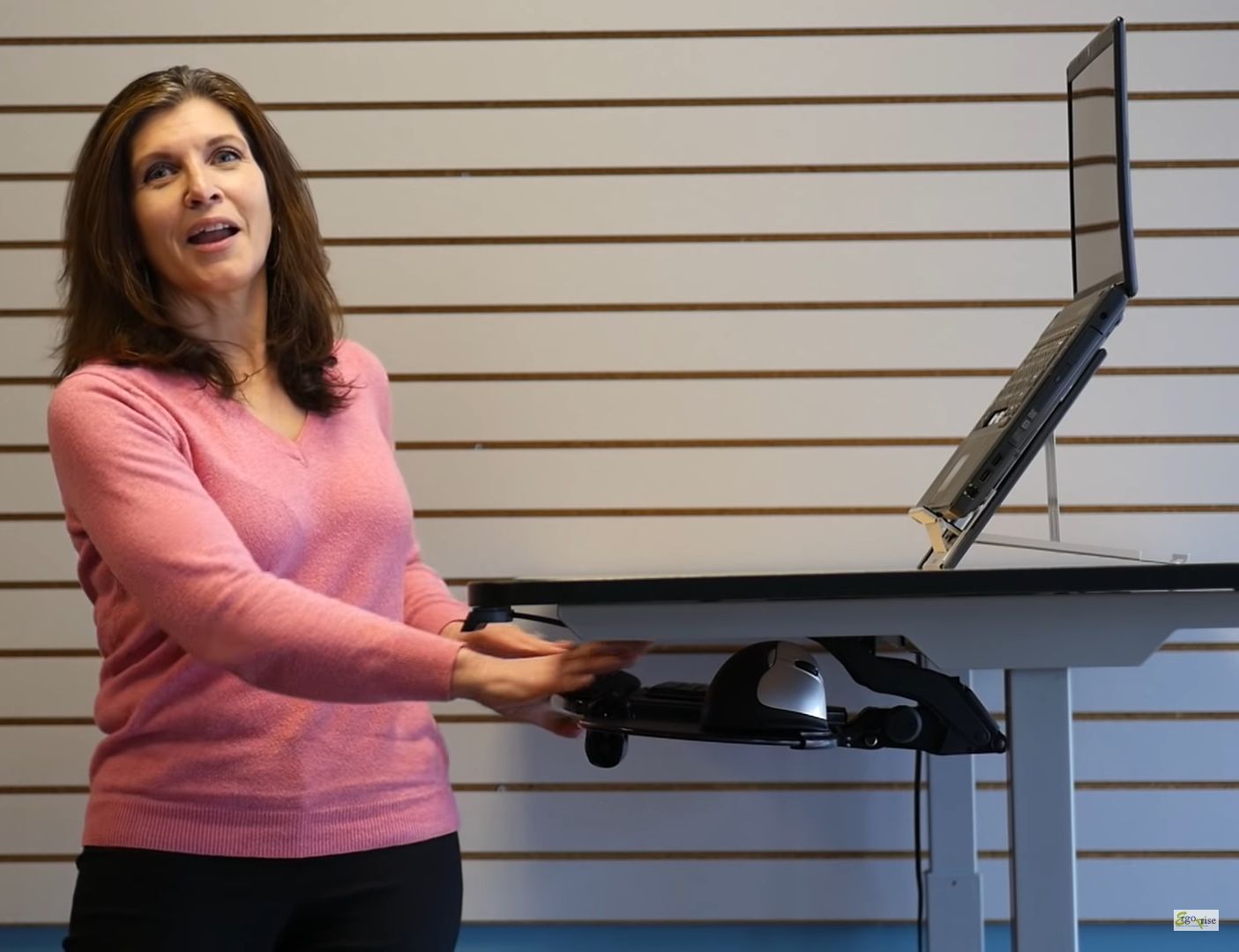 ERGOVATION SLIDING KEYBOARD DRAWER

Incase the product you want is out of stock, please contact us. We can update you on availability or offer alternative solutions. We're here to help you get what you need.
The ErgOvation Sliding Keyboard Drawer exudes modern elegance. It's sleek with a matte black finish that reflects minimalism and sophistication. The drawer slides out smoothly, revealing a spacious area for the keyboard. The anti-skid mat on the tray ensures the keyboard remains stationary, even during intense typing sessions. On the sides, the adjustable brackets gleam subtly, hinting at their functionality.
Features
Smooth Sliding Mechanism: Equipped with ball bearing slides, the keyboard tray ensures a smooth glide every time you pull it out or push it in.
Anti-Skid Mat: No more keyboard slips during intense work sessions. The anti-skid mat ensures your keyboard stays in place.
Elegant Black Finish: The sleek black finish adds a touch of elegance to your workspace, making it both functional and stylish.
Durable Construction: Made with Plastic MDF & steel, this keyboard drawer is built to last. It provides the robust support you need for daily use.
Versatile Design: Whether you're thinking of upgrading your keyboard or switching to a new one, the ErgOvation drawer is versatile enough to accommodate most keyboards. The adjustable drop height feature on the slide brackets ensures a perfect fit every time.
Read more: Do I Need An Office Chair?
In-Depth Features & Benefits
Advanced Sliding Mechanism
The ball-bearing slides are precision-engineered to offer a seamless sliding experience. This ensures minimal friction, reducing wear and tear and prolonging the drawer's lifespan.
Adaptable Design
The adjustable drop height feature on the slide brackets ensures that the drawer can be customized to the user's height and seating position, promoting ergonomic typing postures.
Robust Build Quality
The fusion of Plastic MDF and steel in its construction guarantees a balance between lightweight design and robust durability. This combination ensures the drawer can withstand the daily rigors of a busy workspace.
Anti-Skid Mat Technology
The mat is crafted from a high-friction material that grips the keyboard effectively, ensuring it remains stationary even during intense typing or gaming sessions.
Aesthetic Appeal
The matte black finish is not just about looks; it's also about functionality. It's resistant to scratches, ensuring the drawer maintains its pristine appearance over time.
Space Optimization: For those with limited desk space, the ErgOvation drawer is a boon. It allows users to efficiently utilize their workspace, ensuring the keyboard is only there when needed.
Eco-Friendly Materials
The materials used in the construction of the drawer are sustainably sourced, ensuring minimal environmental impact.
Read more: Types Of Office Chairs
You can visit our Youtube Channel at :
Warranty & Support for ErgOvation Sliding Keyboard Drawer
Warranty Period
The ErgOvation Sliding Keyboard Drawer comes with a 2-year limited warranty from the date of purchase, ensuring that you're investing in a product built to last.
What's Covered
Defects in Materials: Any issues arising due to the use of substandard or faulty materials.
Workmanship Flaws: Any problems that can be traced back to the manufacturing process or assembly.
Mechanical Failures: Issues with the ball-bearing slides or any other mechanical components of the drawer.
What's Not Covered
Normal Wear and Tear: The usual degradation of the product over time due to regular use.
Accidental Damage: Any damages caused by drops, spills, or other accidents.
Improper Use: Damages resulting from using the product in ways it wasn't intended for.
Unauthorized Repairs: Any damages or malfunctions caused by repairs or modifications not authorized by Ergoprise.
Claim Process
Contact Support: Reach out to our dedicated customer support team with details of the issue and proof of purchase.
Inspection: We may request photos or videos of the defect or ask you to send the product for a thorough inspection.
Resolution: Once the claim is verified, we'll either repair the defective product, replace it, or offer a refund, depending on the nature of the issue and product availability.
Support
Our customer support team is here to assist you with any queries, concerns, or issues you might have. Whether it's about installation, maintenance, or troubleshooting, we're just a call or email away. Our goal is to ensure that you have a seamless experience with our product.
User Testimonials
I've been using the ErgOvation drawer for a few months now, and it's genuinely transformed my workspace. The smooth sliding mechanism and the anti-skid mat are game-changers. No more keyboard wobbling during my design sessions!

Sophia M., Graphic Designer
I spend hours typing away. The ErgOvation drawer's ergonomic design has made a noticeable difference in my posture and overall comfort. Plus, the sleek black finish adds a touch of class to my setup.

Liam J., Software Developer
Stability is crucial for me, especially during intense gaming sessions. The ErgOvation drawer delivers on that front. The anti-skid mat ensures my keyboard stays put, no matter how heated the gameplay gets.

Ethan W., Gamer