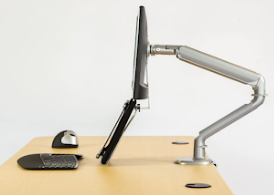 Usually ships within 3 – 5 Business Days

Incase the product you want is out of stock, please contact us. We can update you on availability or offer alternative solutions. We're here to help you get what you need.
Introducing the next generation of monitor support product. The designers of the Ascend created a mount that offers a clean styling and aesthetics, while delivering superior stability and smooth operating function. The new standard Ascend monitor arm is designed to accommodate monitors ranging from 5lbs to 20lbs and up to 30″ (diagonal) monitors, setting new standards of excellence in today's healthy modern office.
Comes with clamp and grommet mount, ideal for all desk mounting configurations, minimizing SKU's
Adjustable counterbalance cylinder provides smooth 14 ½" of height adjustment with fingertip control – 5077 Ascend series counterbalances monitors from 5 lbs. to 20 lbs.
Double extension arms provide a maximum of 26 3/4″ extension from the rear edge of the mounting surface to the VESA Plate for greater monitor adjustment on deep or corner workstations
Arms fold back to a minimum dimension of 4 1/2″ to provide maximum desk utilization
Monitor mounting bracket, with Quick Connect adapter, contains both 75mm & 100mm hole patterns to match most screen types and compliant with VESA mounting standards
Weight gauge provided to allow for quick and easy counterbalance adjustment of the arm prior to installing the screen. Saves time and guesswork especially for multiple arm installations
VESA Plate rotates for portrait or landscape viewing with 180° side to side rotation and -90° to +45° tilt for optimal viewing adjustment
Die cast aluminum construction provides greater stability and contains high recycled material content with full recyclability Adjustable rotation limiter to restrict arm rotation to 180°, preventing arms from hitting walls
Comes with all tools and mounting hardware for quick and easy installation (Tool-free)
Multiple color choices include Silver, Black and White to match any furniture or decor
Read more: Chief Kontour™ K1 Series K1C120 Column Mount Single Monitor Arm
You can visit our Youtube Channel at :


Read more: Do I Need An Office Chair?