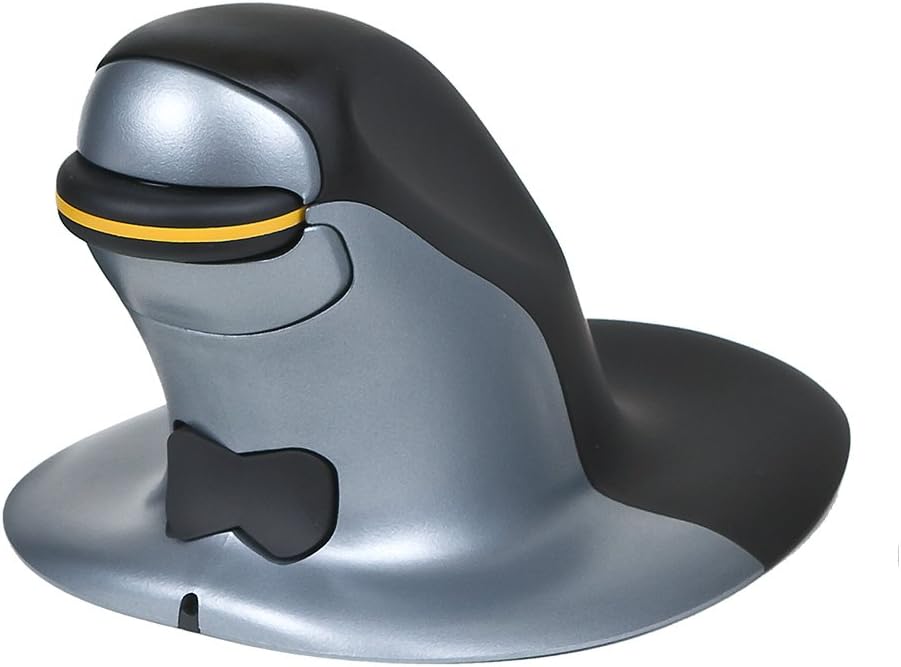 Posturite Penguin Vertical Mouse – Wireless
Usually ships within 3 – 5 Business Days

Incase the product you want is out of stock, please contact us. We can update you on availability or offer alternative solutions. We're here to help you get what you need.
The Penguin Ambidextrous Vertical Mouse sets a new standard for protection against repetitive strain injury (RSI) and carpel tunnel syndrome. It reduces exagerrated movements in the wrist that can increase pressure on the soft tissues in the carpel tunnel as well as allowing for both hands to share the workload.
This extraordinarily comfortable mouse also features accurate tracking and scrolling, plug and play USB 2.0 for Windows and Mac, and comes in two different sizes. The Posturite Penguin Vertical Mouse also features adjustable 400, 600, 800, or 1200 dpi settings and it's cute to boot!
Vertical Alignment – More naturally comfortable and encourages a more ergonomic mousing position
Ambidextrous – Central "bow-tie" switch allows easy transition between right and left handed use
Performance Laser Tracking – for accurate tracking
Variable DPI [400-600-800-1200] – adjustable pointer speeds
Easy Glide Symmetrical Base – Allows either hand to rest comfortably during use while fine cursor control is still easily achieved using small hand and/or finger movements
Precision Performance Laser for accurate tracking
Precision Scroll Wheel – Features auto-scroll for fast, accurate document scrolling
Available in Different Sizes, Wired or Wireless – If distance between top of wrist and tip of middle finger is 7″ pick Standard size, if it is smaller pick Small size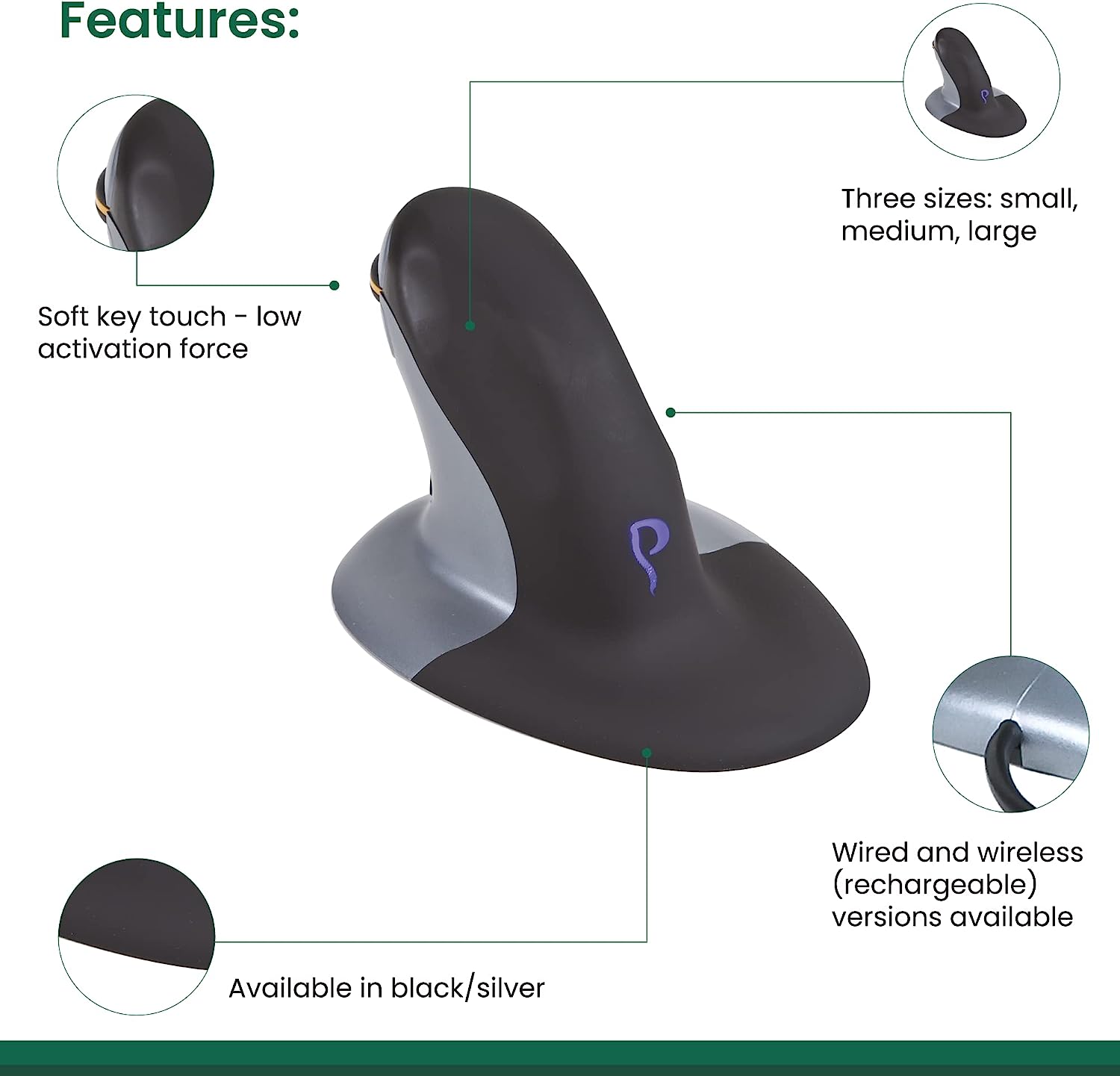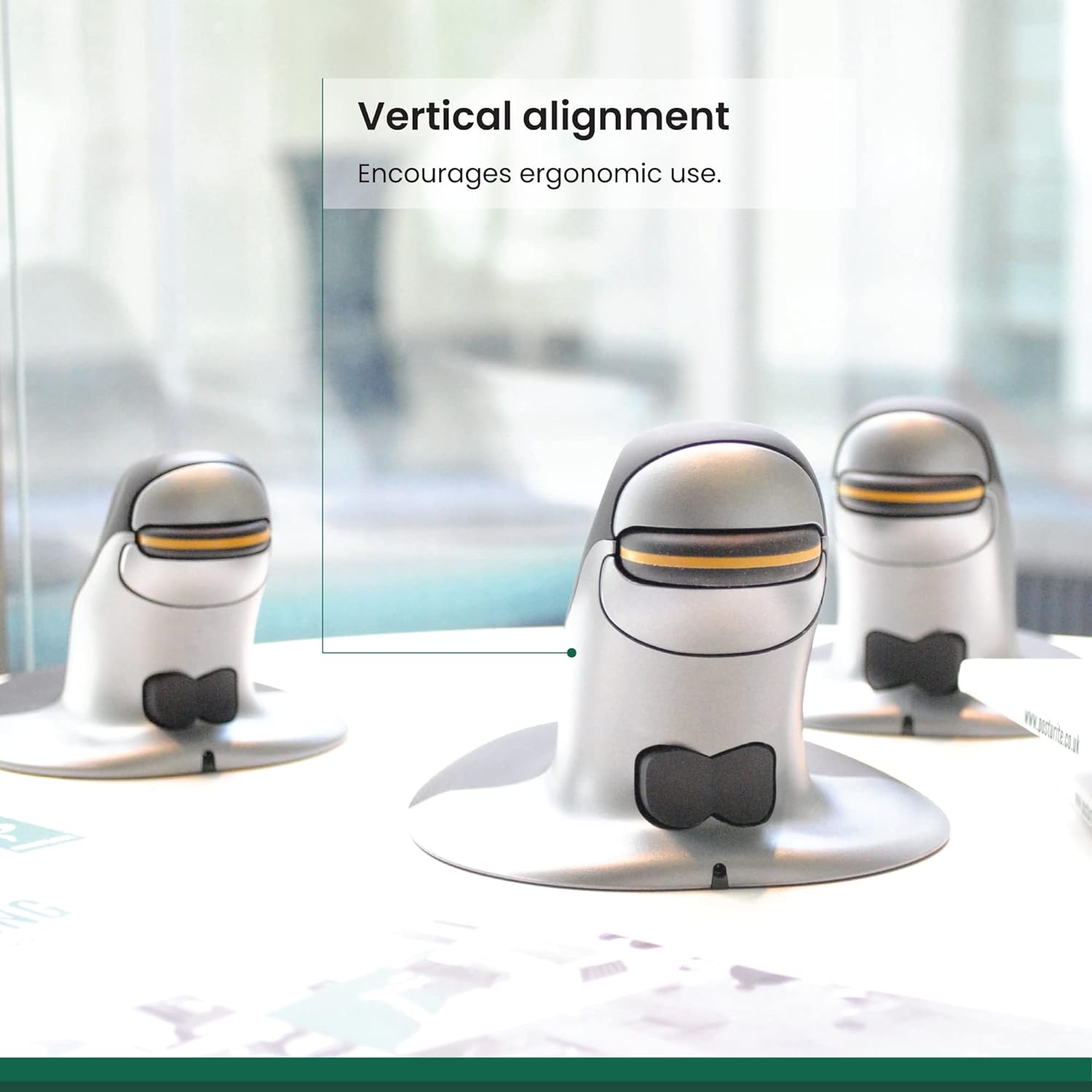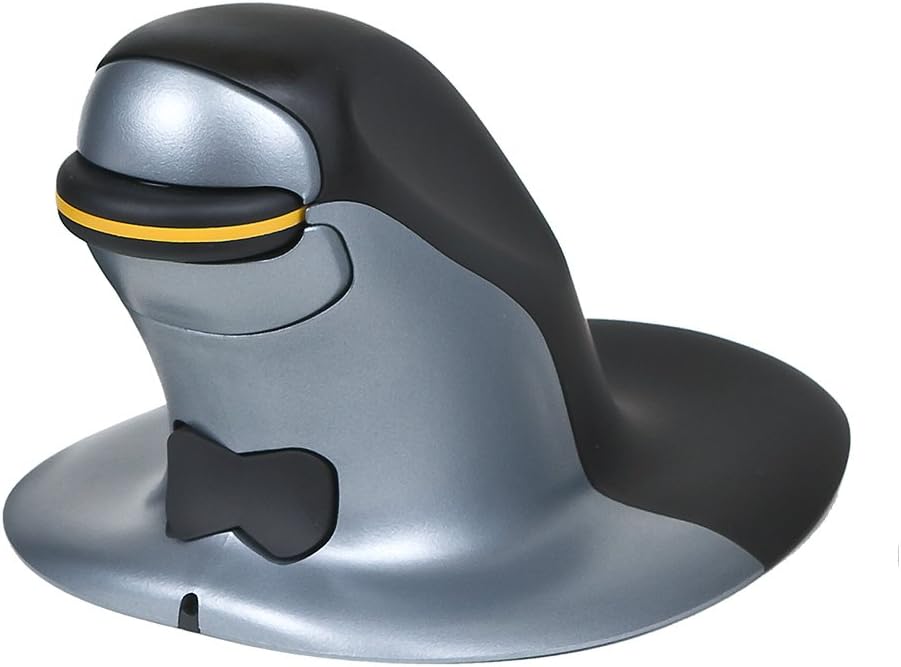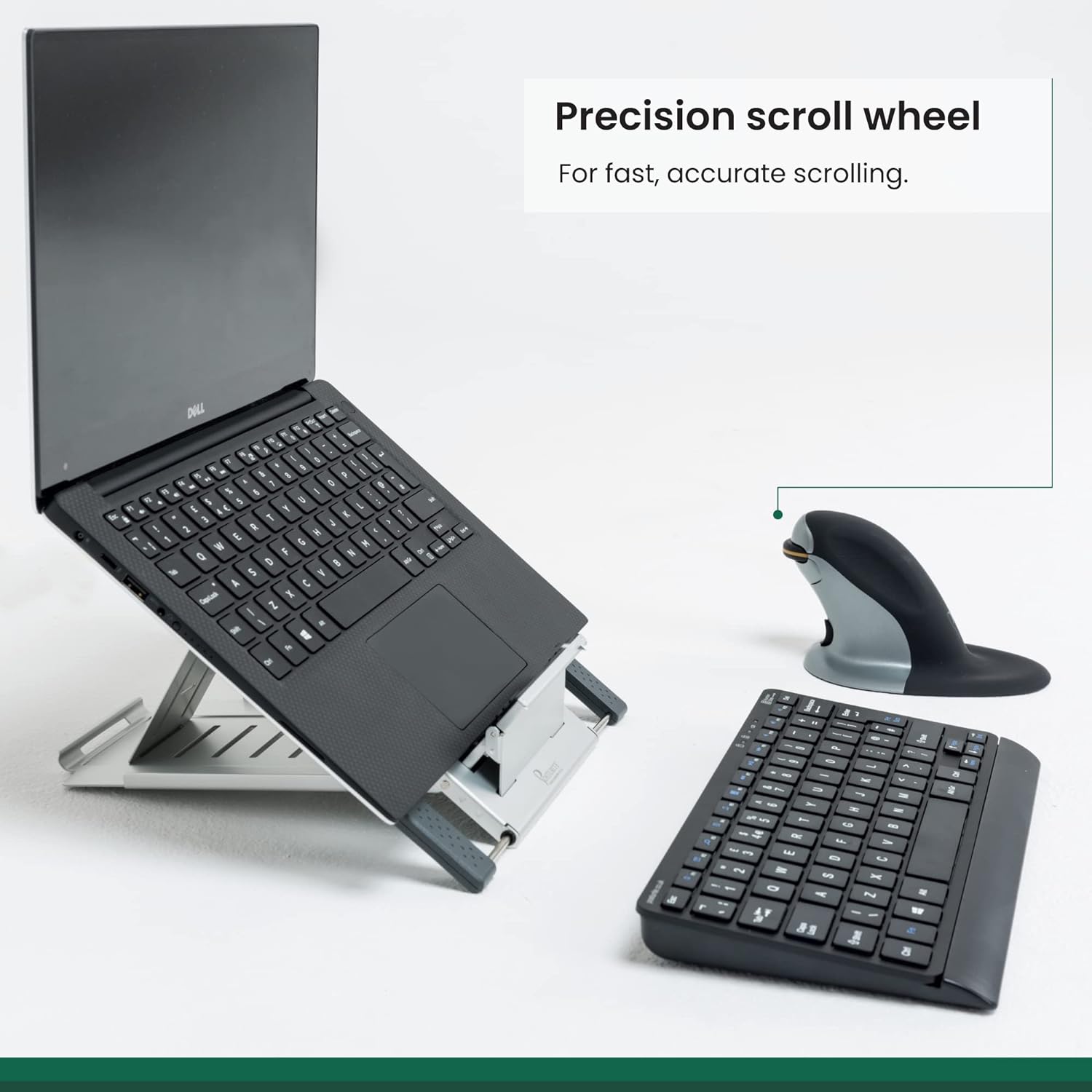 Read more: Office Chair Materials
Posturite Penguin Ambidextrous Vertical Mouse Specifications
Sizes
Small, Standard
Product Type:
Vertical Mouse
Cord:
Wired or Wireless
Compatibility:
Windows XP, Windows 2000,
Windows Vista, Windows 7, Windows 8, Windows 10,
Mac OS X, Linux
Connectivity:
USB 2.0
Operating Movements:
Adjustable: 400, 600, 800, 1200 dpi
Weight:
1lb
Size Options
The Penguin mouse is available in three sizes. To choose the correct one for you, measure your hand from the first crease on your wrist to the tip of your middle finger.
Small: 0-6 inches
Medium: 6-7 inches
Large: 7+ inches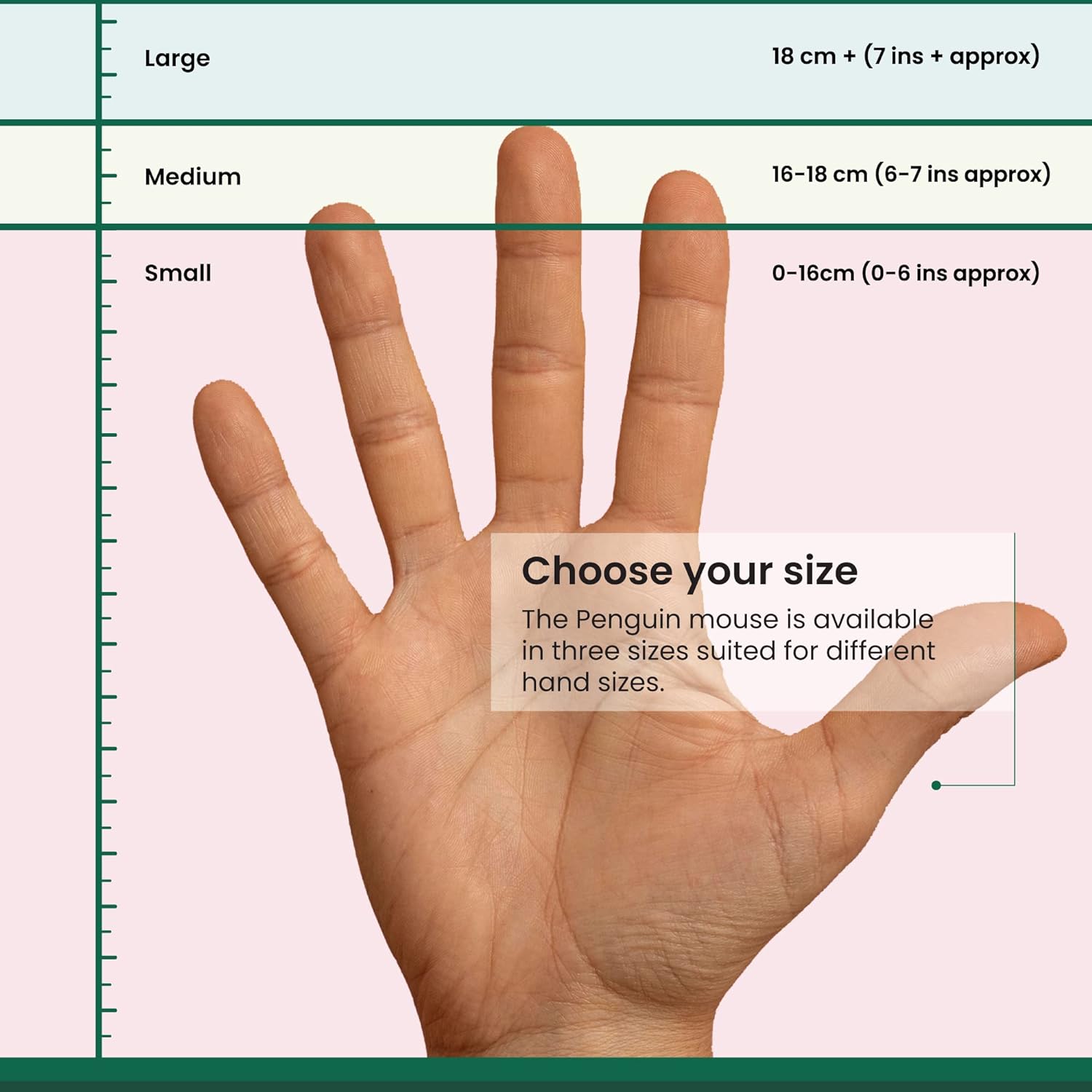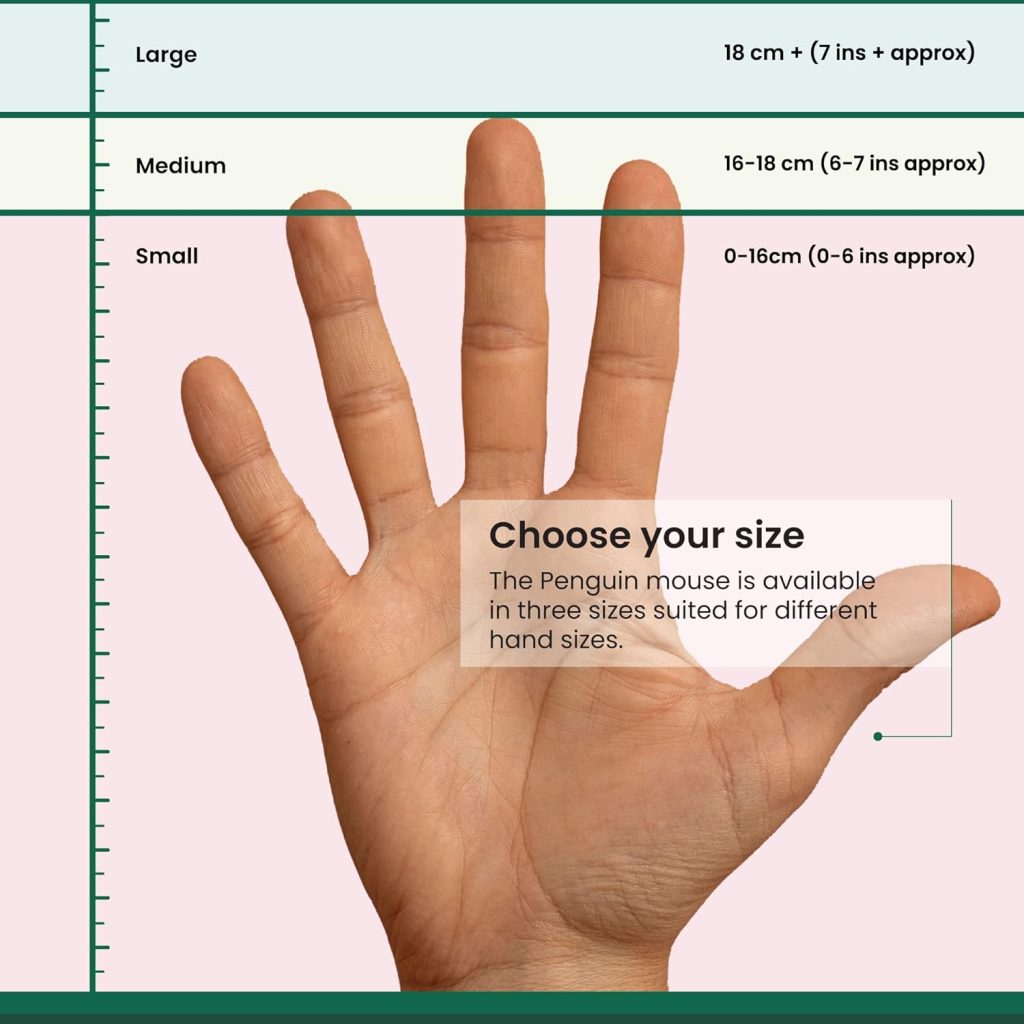 It's extremely comfortable and allows us to transition between both hands with ease
Fast and Precise scrolling and tracking
This is Good For Users who want to reduce strain and discomfort while mousing