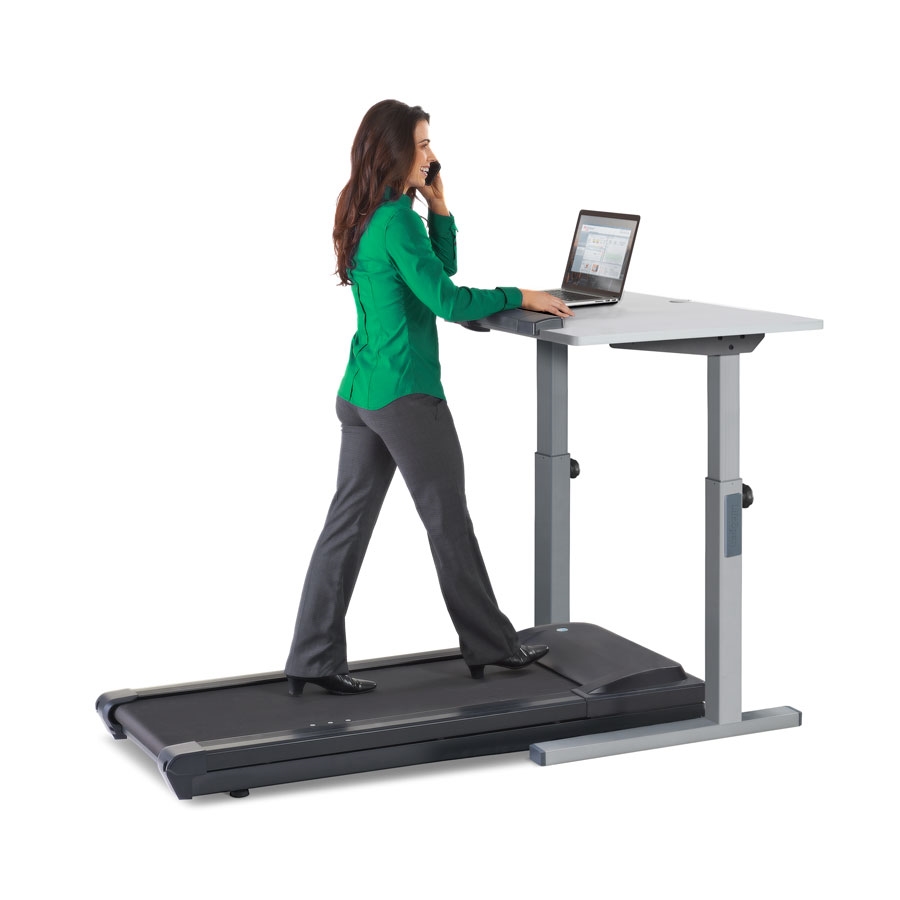 TR1200-DT5 TREADMILL DESK

Incase the product you want is out of stock, please contact us. We can update you on availability or offer alternative solutions. We're here to help you get what you need.
TR1200-DT5 Treadmill Desk by LifeSpan
Exercise at work while improving your productivity
The TR1200-DT5 Treadmill Desk was designed around how you work. The treadmill console is conveniently located in the front of the desk so it doesn't take space away from the working surface. For comfort and convenience, the TR1200-DT includes padded arm rests to ensure lasting comfort, and clean cable management with a cable tray tucked under the desk to store your cables.
The display panel shows distance traveled, calories burned, time walking on the treadmill desk, and the Intelli-Step™ feature works like a pedometer and counts steps taken while you're working.
Designed from the "Ground Up" is a term we have used to describe the TR1200-DT5. To define this term we need to first have a brief discussion on how treadmills work from a mechanical perspective.
Treadmills are designed with a drive motor that is connected to the front roller via a belt. The pulley on the drive motor is much smaller than the pulley on the front roller to create a mechanical advantage. In other words, this allows the motor to spin multiple times around for every time the front roller spins. This works like the gears of a car. The higher the ratio between the front roller and the motor, the more power the motor can transfer to the treadmill belt and the easier it is for the motor to pull you as a user while you're walking on the belt.
One of the challenges in designing a quality treadmill is having strong torque at low speeds without causing the motor to run too fast at high speeds. Most treadmills typically have maximum speeds in the 10-12 MPH range. If the gear ratio is too high, this will cause the motor to spin at an RPM that will wear out the motor quickly, and this is where the discussion on treadmill quality is often centered. Better quality and larger motors will typically be able to have high torque at low speeds and then more easily run within its recommended RPM at the maximum speed.
So when we say the TR1200-DT5 is designed from the ground up to be a treadmill desk, mechanically this means we focused on optimizing the torque of the motor at low speeds by increasing the pulley ratio between the motor and the front pulley. In return, we reduced the maximum walking speed to 4 MPH.
The result is a treadmill that can easily operate for hours at a time at low speeds without overheating or creating excessive stress on the motor and electronics.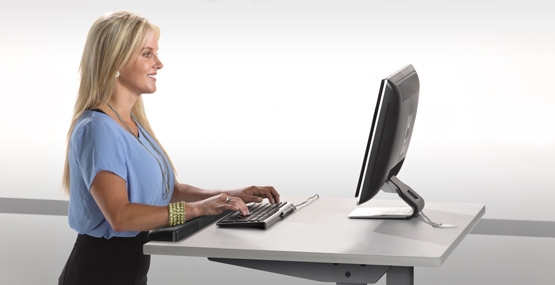 Health Benefits:
Spending too much time at your desk sitting (even if you do get the recommended 30 minutes a day of exercise) leads to obesity, diabetes, heart disease and even cancer. This is a bold statement, but the reality is that our bodies simply are not designed to sit for extended periods of time.
Sitting all day while we work, or more commonly called "having a sedentary lifestyle," has only recently become a trending topic in health and fitness, but studies of the affect of sitting while working vs. standing (and moving) while working date back to the mid-twentieth century. In an article by Maria Masters (Men's Health) she recounts a British study published in 1953 where scientists examined two groups of workers: bus drivers and trolley conductors. The bus drivers were more likely to sit down for their entire day, the trolley conductors were running up and down the stairs and aisles trolleys. As it turned out, the bus drivers were nearly twice as likely to die of heart disease as the conductors were.
Marc Hamilton, Ph.D. from the Pennington Biomedical Research Center has labeled this area of science "inactivity physiology." He found that when the leg muscles are not used for a few hours, our levels of the enzyme lipoprotein lipase (LPL) drop off severely. This protein's main role is to break down fat in the bloodstream to use as energy. He states simply, "humans sit too much… the cure for too much sitting isn't more exercise. Exercise is good, of course, but the average person could never do enough to counteract the effect of hours and hours of chair time."
Increased risks of heart disease and obesity are just a couple of the health hazards related to a sedentary lifestyle. Lower back and hip pain, poor balance and mobility are also associated with prolonged periods of sitting. The list of ailments caused by too much sitting goes on to include higher risks of diabetes, depression and even cancer. Christine Friedenreich, an epidemiologist at Alberta Health Services/Cancer Care suggests that her research has found that inactivity is linked to an additional 37,000 cases of cancer. The research that has been done in the last few years on the dangers of sitting is nothing short of alarming. Sitting has become the new smoking.
The good news is that the solution is easy and quite natural — just reduce the amount of time spent sitting. Finding additional time in a hectic work day for more exercise can seem impossible, but with the LifeSpan Treadmill Desk taking the place of an office chair, not only can you eliminate the inactivity in your workday but you will find that you will have an increase in energy as well as productivity.
Read more: Can A Bad Office Chair Cause Back Pain?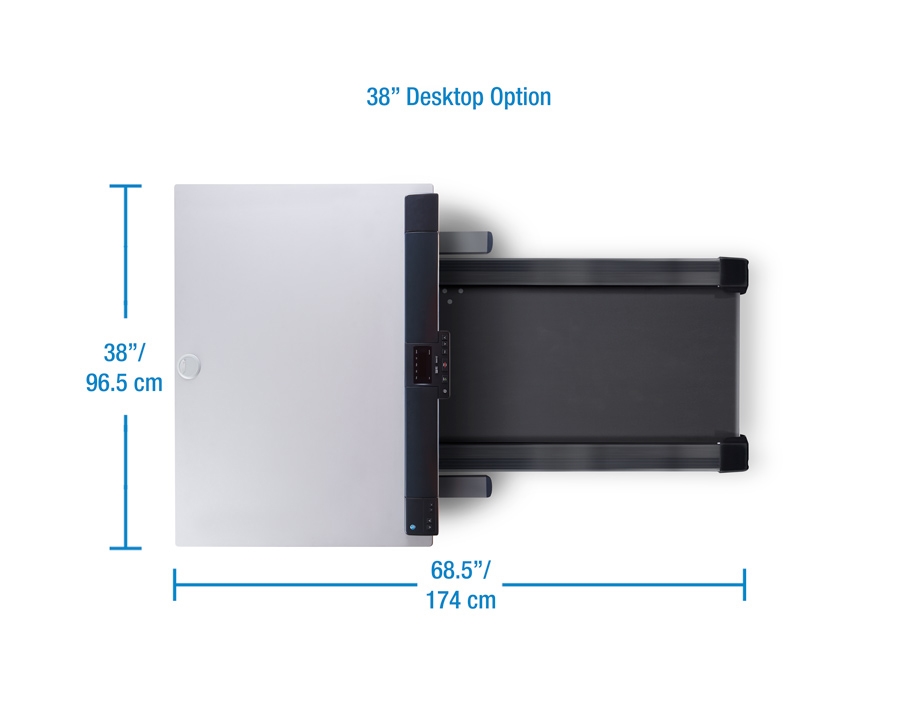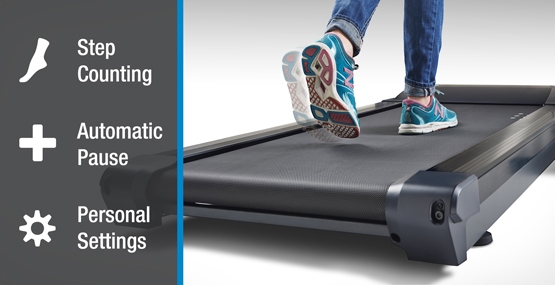 Bluetooth – New Feature:
The TR1200-DT5 is Bluetooth-enabled to wirelessly sync your data to your computer and share with a specially designed app that sits on your computer desktop. Track your steps taken, walking time, calories burned distance traveled all on your computer screen as you walk. Once complete, sync your data with your online LifeSpan Fitness Club account to retain your walking history.
Desktop Height Adjustment: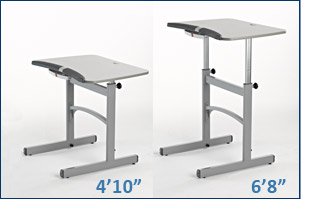 Comfortably fits users from 4'10" to 6'8″ tall. Even at the highest setting, this table will remain stable. The desktop frame is unattached from the treadmill and stands alone, ensuring that any movement of the treadmill stays isolated and is not transferred to the desktop.
Easy Access Console: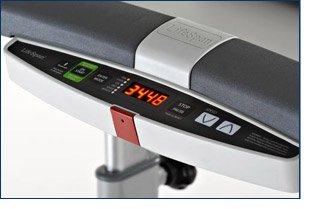 Location, location, location! This console is perfectly located for easy access without taking away any of your desktop area. The digital LED display shows steps taken, walking time, calories burned, distance traveled and walking belt speed. The weighted console has a safety key that shuts down the treadmill when removed. The padded armrests add comfort and support to help avoid wrist fatigue in long work sessions. Great for the elbows to rest on, too!
Heavy Duty Workspace: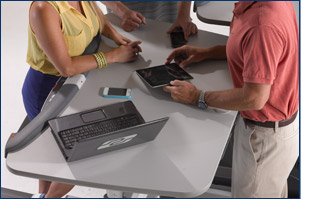 The TR1200-DT5 desktop has a 1″ thick composite board and durable laminate surface set on a rigid steel frame. It is large enough to hold all of your electronic devices and still have ample room for a drink and notepad. The rounded corners finish off the design — not just for aesthetics, but again putting safety at the forefront of LifeSpan design.
Intelli-Guard and Intelli-Step: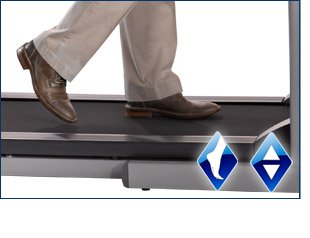 The TR1200-DT5 comes standard with two of LifeSpan trademarked technologies: The built-in Intelli-Guard™ automatically stops the belt if you step off during your walk for added safety and is a major development in protecting treadmill users and those around them. With the Intelli-Guard™, you no longer have to worry about leaving your treadmill running if you have to step off to take a call. When your foot no longer continuously strikes the belt surface for 20 seconds, your treadmill will automatically pause. Intelli-Step™ counts and records the number of steps you take and displays them on the console. More accurate than a pedometer, Intelli-Step automatically detects the impact of your foot striking the treadmill belt.
Read more: S2S Premium Standing Desk
Standard Delivery — FREE Curbside Delivery
Delivered to the curb or driveway. The customer is responsible for moving the product from the point of delivery to the garage or room where the product will reside. The drivers are not responsible for placing the product inside the garage or home. LifeSpan will not be responsible for rain damage or stolen product if the product cannot be moved to a dry, secure location. Since most treadmills weigh over 175 lbs., if a second person is not available to help move the product to the home a better option is Inside Delivery or the best option is Room of Choice Delivery.
To The Door Delivery — $49
Large items ship via motor freight and will be placed in the garage or over the first threshold of the first available ground level door. Does not include room of choice or any steps. Since your product is being shipped via freight carrier you will be contacted by phone to schedule a delivery time since this shipping method requires a signature.
Products generally ship within two business days and will be delivered in 5-10 business days.
Room of Choice Delivery — $99
Delivered by a freight carrier with lift gate, two delivery professionals will place your product in the room of your choice. Rooms can be up or down two flights of stairs only, additional flights will be charged an additional $15 per flight. This is our recommended service option since the assembly process is quite basic for most LifeSpan pieces of fitness equipment.
Most products are delivered within ten days of your purchase.
White Glove Service — $199
This is our highest quality shipping service, leaving all the work to us so you don't have to lift a finger. The complete White Glove Service includes:
Delivery of the product to your home
Placement in the room of your choice (up or down two flights of stairs)
Unpacking and removal of debris
Assembly
The service is sometimes a two-step process that may require two separately scheduled appointments.
Delivery and removal of packaging
Product assembly may require a certified LifeSpan technician to come to your home and assemble the product that was placed in your room of choice by the delivery team.
Depending on the product you purchase it may take one or two separately schedules appointments. Items that only require one step in this process are:
TR100/TR200/TR800-DT5/TR1200-DT5/TR5000-DT5/TR800-DT3/TR1200-DT3/TR5000-DT3/TR800-DT7/TR1200-DT7/TR5000-DT7/C3-DT3.
These units will be assembled by the delivery team.
Most products are delivered and assembled within seven to ten days of your purchase.
Read more: Dock & Hide Under Desk Laptop Holder