HUMANSCALE FREEDOM CHAIR WITH HEADREST
Usually ships in 7 – 10 days

Product Description
The Humanscale Freedom Chair with Headrest has earned the loyalty of its fans. No thought or effort is needed to recline or change positions and movement is a key goal when seeking a healthier work environment. Highly contoured cushions provide excellent back, lumbar and lateral support with a feel reminiscent of the car seats in a luxury sports car.
HumanScale Freedom Chair Standard Model Features
Dynamic mechanism opens body angle for improved blood flow and requires no knobs, levers, or tension adjustments.
Height adjustable back features contoured lateral support and a prominent lumbar support that maintains a healthy lorthotic curve. Backrest features a pivot that moves as you move, responding to the changing needs of your spine.
The headrest is height adjustable and cradles your neck and head for support when reclining – maintaining line of site with your monitors.
Seat is height and depth adjustable for proper leg support
Height adjustable arms move in tandem and can be placed very low for times when you want your arms out of the way. Advanced arms also pivot.
15-year, 24/7 warranty.
HumanScale Freedom Chair W/ Headrest Specifications
27.25″ W x 27.5″ D x 43″ – 53″ H
21″ W x 26.75″ – 34.75″H
backrest has 3″ adj. range,
headrest has 5″ adj. range
16-21″ H standard
15.25″ – 19″ low
17″ – 22.25″ tall
35″ H x 27″ W x 27″ D
shipping weight is 58 lbs
Read more: Does Office Chair Need Headrest?
HumanScale Freedom Chair With Headrest Specifications
| | |
| --- | --- |
| Code | Description |
| a | Seat depth: 16.25″ – 18.5″ |
| b | Seat height: 16″ – 21″ standard, 15.25″ – 19″ low, 17″ – 22.25″ tall |
| c | Seat width: 21″ |
| d | Backrest height: 18″ plus headrest |
| e | Chair width: 27.25″ |
| f | Armrest height: 5″ -11″ |
| g | Armrest length: 13″ standard, 14.25″ advanced |
| h | Distance between armrests: 20″ standard, 11.5″ – 21.5″ advanced |
| j | Overall height: 43″ – 53″ standard cylinder |
| k | Headrest height adjustment range: 5″ |
| l | Base diameter: 25″ |
| o | Backrest width: 21″ |

HumanScale Freedom Chair Standard Fabric
Squiggle [S] Vertical for your Freedom Chair (Grade 0 – Included in price)
Squiggle is constructed of 100% pre-consumer, recycled polyester and offers two-way stretch for a softer "sit." Squiggle is durable enough for everyday use and has an abrasion rating of 150K double rubs.
Squiggle [G] Horizontal for your Freedom Chair (Grade 0 – Included in price)
Squiggle is constructed of 100% pre-consumer, recycled polyester and offers two-way stretch for a softer "sit." Squiggle is durable enough for everyday use and has an abrasion rating of 150K double rubs.
Vellum [V] Grade 1 Fabric + $20.00
Vellum offers four-way stretch to maximize the comfort of your cushions but is durable enough for the demands of an office workspace. Vellum is construction of nylon, Cordura, and elastic yarns; is stain and water repellent, has an abrasion rating of 150K double rubs.
Wave [W] Grade 1 Fabric + $20.00
Wave is a four-way stretch fabric designed for heavy-duty use that exceeds all contract interior testing requirements. It has a bit of extra cushioning due to its backing making this the softest "sit" of any of the Humanscale fabric options. Abrasion rating is 150K double rubs. Wave is constructed of 86% nylon and 14% elastic.
Lotus [K] Grade 1 Fabric + $20.00
Lotus is the creation of award-winning designer Elizabeth Whelan and is water repellent and super easy to clean making it an excellent choice for more demanding environments including healthcare and the hospitality industry. Lotus offers four-way stretch for comfort and has a soft texture that is pleasing to the touch. Vibrant colors make it a welcome addition in any office. Lotus has a 100% polyurethane face and a nylon backing and has an abrasion rating of 350K double rubs.
Read more: Can A Bad Office Chair Cause Back Pain?
The standard Humanscale Freedom Chair can still be customized to meet your comfort and style requirements.
Humanscale Freedom Chair Arms
Choose from no arms, height adjustable arms, or height adjustable arms with a pivoting armpad, and from two different types of armpads, as well as whether or not you want the armpads upholstered to match your chair.
Choose either the standard foam seat or gel seat.
Standard foam – molded foam is contoured to match body contours and reduce pressure points
Gel seat – is crafted of a non-degradable, non-compressible Technogel layer with a foam core. The gel seat conforms better to the body, distributing your body weight more evenly across the seat pan. This further reduces the pressure of sitting on your body.
Buy Smart: The gel seat takes 15 minutes or so to warm up and conform to your body. It's a great upgrade for those who sit in their chair for long stretches. We recommend the standard padding for those who are up and down, or if the chair sees occasional use.
Freedom Chair Height / Cylinder Options
Choose one of three cylinders to tailor the seated height range to the user.
Standard – 16″ – 21″ – fits most people from 5'2″ to 6'3″
Low – 15.25″ – 19″ – works well for 5′ to 5'6
Tall – 17″ – 22.25″ – extends the height range for taller users or for use at with a higher desktop
Buy Smart: Seated height is only part of the solution for users who are shorter or taller than average. Make sure the seat depth will fit the user as well, otherwise choose a chair that is better sized for that person.
Casters
Standard casters – work well for carpet and plastic carpet protectors
Soft casters – are slower and quieter on hard floors such as linoleum, tile, and concert
Glides – do not roll at all and work on any floor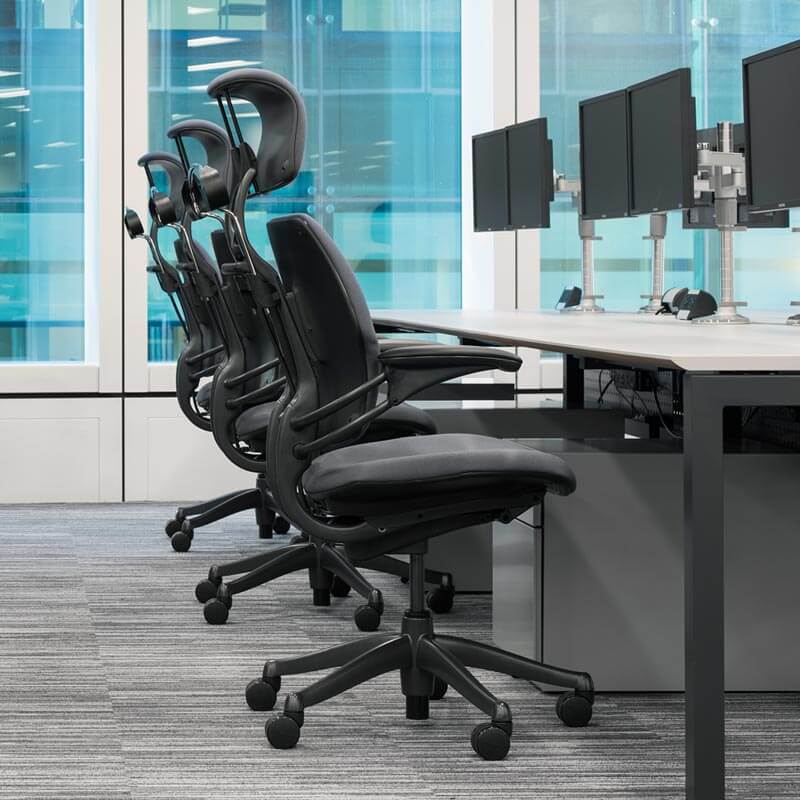 Free Shipping Program
Most orders over $85 ship FREE within the continental United States. Shipments to Alaska, Hawaii, Canada, Mexico, U.S. territories, APO, and FPO addresses do not qualify for the free shipping program.
General Shipping Information
Most items ship via UPS Ground service. Some smaller items may be shipped via USPS instead. Desks and larger shipments may ship via a freight carrier.
If your items ships via common carrier (freight), the freight carrier will call to schedule an appointment for delivery. Our standard/free shipping includes curbside delivery. There may be extra fees for liftgate (lowers the product to the ground), residential, or inside delivery. Call us for more information. Note: It is important for you to immediately inspect freight shipments for damage and to note this on receiving paperwork. Call us immediately if your product arrives with shipping damage.
UPS and freight are not available to APO and FPO addresses. Call us if you have questions on shipping options to your location.
UPS items do not usually require a signature for delivery but this is at the discretion of the driver. Signature may be required in high risk areas.
We will email you an estimated ship date, and tracking information as soon as this is available.
This chair offers excellent lumbar support
Easily adjusts to fit most bodies and it comfortable
Beautiful Ergonomic Design:
Work in style and comfort with the Humanscale Freedom Chair with Headrest. The Freedom Chair features a unique leverless control that encourages movement.