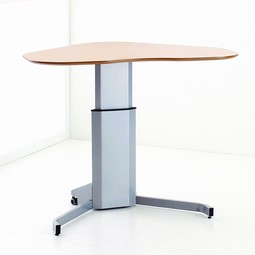 CONSET 501-7 SERIES 26″ – 46″ HEIGHT ADJUSTABLE DESK
Usually ships 7 to 10 days

 The Conset 501-7 is an elegant small computer table with electric height adjustable range from 26.7″ to 47.2″ – low enough to work seated to high enough to working standing. Flexibility, function, and absolute lowest price in the industry makes the 501-7 the perfect desk for your workstation needs. This Conset 501-7 can be used as a small single desk or grouped together.  A good desk for multiple users, libraries, or as an additional side desk. The wheels in the back makes the desk easy to move. Brake locks are located on the wheels to steady the table when in use.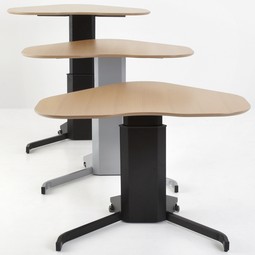 Max load on Desk: 70 kg. or 154 lbs
Height range is 26″ to 46.2″
Frame adjusts from 26″ to 46.2″
Lifting capacity: 154 Lbs
Adjusts 1″ per second
Power supply is 110V
80 Watt AC Power Transformer (consumption: 80 Watts; standby: Less than 1 Watt)
Easy up and down operation with the added safety feature; 2 buttons must be pressed together to avoid accidental operation
"Anti-squeeze" feature; top must be mounted to frame before the desk will go up and down without stopping
Power supply is UL approved for the USA and Canada
Integrated cable management located between support brackets
Frame color: Silver or Black (visible frame parts powder coated in frame color, non-visible metal parts are surface treated – plated)
Includes 2 locking casters
2-year warranty on motorized parts, 5-year on structure
Read more: Can A Bad Office Chair Cause Hip Pain?
Please note All Desk Systems (base & top) or Desk Top Only are delivered free via commercial truck on a pallet and delivered to the curb. If the shipping destination is to a residence or a business without a loading dock, a liftgate will be required. Surcharges may apply. Please state this information in the notes section on your order.
Desk base only orders ship ground via UPS & FedEx. To ensure that your delivery is received we will require a signature for this type of delivery. We do this to ensure that your deskbase is not left in an unattended area.
Free Shipping Program
Most orders over $85 ship FREE within the continental United States. Shipments to Alaska, Hawaii, Canada, Mexico, U.S. territories, APO, and FPO addresses do not qualify for the free shipping program.
General Shipping Information
Most items ship via UPS Ground service. Some smaller items may be shipped via USPS instead. Desks and larger shipments may ship via a freight carrier.
If your items ships via common carrier (freight), the freight carrier will call to schedule an appointment for delivery. Our standard/free shipping includes curbside delivery. There may be extra fees for liftgate (lowers the product to the ground), residential, or inside delivery. Call us for more information. Note: It is important for you to immediately inspect freight shipments for damage and to note this on receiving paperwork. Call us immediately if your product arrives with shipping damage.
UPS and freight are not available to APO and FPO addresses. Call us if you have questions on shipping options to your location.
UPS items do not usually require a signature for delivery but this is at the discretion of the driver. Signature may be required in high risk areas.
We will email you an estimated ship date, and tracking information as soon as this is available.
Additional Information: 501- 7 Series is a great desk for schools, callcenters, or an office. 501-7 is affordable and highly flexible.