The Uprise Standing Desk by Ergoprise stood out, carving a niche for itself in the mid-tier segment. Marrying functionality with affordability, this desk is a testament to ergonomic innovation. Its silent, robust base is a testament to quality, but what truly captivated our team was the diverse selection of tabletops, from the elegance of premium bamboo to the timeless appeal of hardwood.
For those oscillating between traditional standing desks and the more dynamic treadmill desks, the Uprise offers a compelling proposition. Dive into our detailed review as we unravel its features and benefits.
What is the Uprise Standing Desk?
The Uprise Standing Desk by Ergoprise is a mid-tier, electrically adjustable sit-stand desk known for its blend of functionality and affordability. This ergonomic desk base can telescope from 44.5″ wide to 74″, making it suitable for work surfaces from 46″ to over 84″ wide. It features three stroke lifting columns that adjust the height from 24″ to 50.75″. With 360 pounds of lifting power, it's designed for the modern workforce, offering a seamless transition between sitting and standing positions.
We started with our first adjustable desk, the S2S. The Uprise is its upgraded version with a better base. We chose high-quality materials for the base, moving away from the common options many others use. This ensures our customers get a great product at a good price.
We've learned a lot over the years, especially from those who use our desks with treadmills. Stability is key for them, and we've made sure the Uprise delivers on that front.
Read more: UltraErgo Wireless RF Split Keyboard
How Does the Uprise Desk Ensure Stability and Quality?
Ergoprise Uprise Standing Desk stands as a testament to this commitment. But what sets it apart in terms of stability and quality? Let's delve deeper.
Stability Through Superior Base Design
The Uprise Desk is anchored on TiMotion's medium-tier base. Originating from Taiwan, TiMotion is renowned for producing high-end bases with impressive lift capacities. This particular base used in the Uprise Desk is more robust than many of its counterparts, weighing in at a substantial 93 lbs. This weight ensures that the desk remains firmly in place, providing users with a stable work surface.
Customizable Tabletop Options
We offer a diverse range of tabletops, from standard high-pressure laminate (HPL) to premium options. The HPL tops are available in a variety of colors and wood grains. For those seeking specialized tops, we have the Electro-Static Dissipative (ESD) desk top, ideal for electronics assembly, and the chemical-resistant Phenolic top. For a touch of luxury, customers can opt for our premium bamboo or hardwood tops.
Advanced Height Adjustment
One of the standout features of the Uprise Desk is its advanced height adjustment mechanism. With a speed of 1.7" per second, it outpaces many electric desks in the market. This speed ensures that users can seamlessly transition between sitting and standing positions throughout the day.
Read more: Standing Desk By Height Of User
Impressive Weight Capacity
The Uprise Desk can comfortably lift up to 360 pounds. While it might seem unlikely to load a desk with such weight, this capacity is an indicator of the quality of its motors and actuators. It's a mark of durability and reliability.
Optimal for Treadmill Use
Given its stability and height adjustment range, the Uprise Desk is also suitable for treadmill desk applications. The desk's maximum height of 51 inches ensures more overlap between the telescoping leg segments, reducing shakiness.
What are the Customization Options for the Uprise Desk?
At Ergoprise, we understand that every workspace is unique, and so are the needs of our users. That's why our Uprise Standing Desk offers a plethora of customization options to ensure it fits seamlessly into any office environment.
Diverse Tabletop Choices
The Uprise Desk stands out with its wide range of tabletop options. Whether you're looking for something standard or premium, we've got you covered:
High-Pressure Laminate (HPL) Tops: These are available in 11 wood grain patterns and 6 solid color laminates. They're durable, stylish, and can match various office decors. The PVC edge banding, available in 15 color choices, adds an extra touch of customization.
Specialized Tops: For those in specific industries, we offer the Electro-Static Dissipative (ESD) desk top, perfect for electronics assembly. There's also the chemical-resistant Phenolic top, which stands strong against potent disinfectants.
Premium Bamboo and Hardwood Tops: For those seeking a touch of luxury, our bamboo and hardwood tops are the perfect choice. They not only elevate the aesthetic appeal of the desk but also offer durability.
Advanced Desk Controllers
To enhance the user experience, we offer an upgrade from the standard up/down controller to an LED Controller with programmable height presets. This advanced feature allows users to set and switch between different heights for sitting, standing, or even walking, making transitions throughout the day effortless.
Size and Depth Variations
The Uprise Desk caters to various workspace sizes. The tops come in widths of 48", 60", and 72", and depths of 24", 30", and 36". This ensures that whether you have a compact workspace or a spacious office, the Uprise Desk can be tailored to fit perfectly.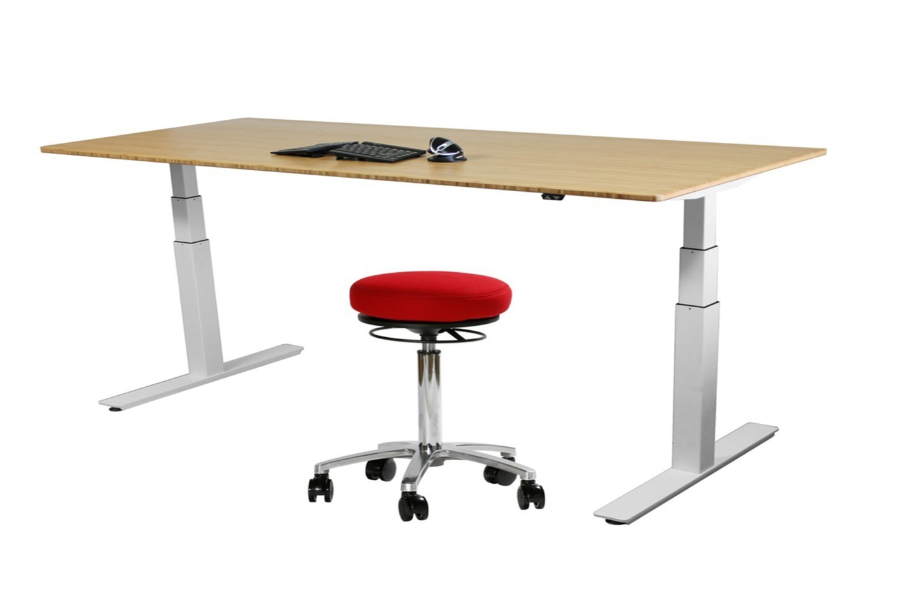 Read more: S2S Premium Standing Desk
What is the Price Range for the Ergoprise Uprise Standing Desk?
When searching for the ideal standing desk, one of the primary concerns is cost versus quality. A standing desk is a major investment, but a high price doesn't always mean top-notch quality.
Through our thorough evaluations, we've noticed some budget-friendly desks that offer good value. The Autonomous SmartDesk 2 and StandDesk Pro, for instance, are priced more affordably than some American-made desks. They even compete with "premium" desks from China, like the Jarvis and UpLiftDesk, which are constructed on the popular Jiecang base.
However, these budget desks often come from China and use more cost-effective materials, leading to shorter warranties. A lower price doesn't always imply lower quality. Some of these desks might have lower performance ratings, but not always.
The Uprise Standing Desk is another option often discussed. For its exact price range, we'd need to check the most recent market data. But remember, the right desk is about more than just its price. It's about its fit for your needs and its overall value.
How Does the Uprise Desk Compare to Other Desks in the Market?
The Uprise Desk stands out as a shining example of the high-quality Asian imports. While some slightly cheaper alternatives in the market resort to using subpar base components, the Uprise's foundation on the TiMotion base sets it apart. This distinction becomes evident when contrasting with products anchored on the Jiecang or Conset bases, which have shown inconsistencies in terms of reliability, durability, and overall performance.
Another contender worth mentioning is the iMovR Energize, an all-American desk that presents an alternative to the Uprise's traditional High-Pressure Laminate (HPL) tabletop. They employ 3D lamination, an innovative process yielding a more robust, stable surface with a high-end hardwood appearance. Although 3D lamination is cost-effective, it demands specialized machinery that few manufacturers currently possess. However, if you're in pursuit of premium bamboo or hardwood tops, especially the deeper 36″ desktops, iMovR may not be your best bet.
Backing its promise of quality, the Uprise Desk offers a comprehensive warranty: 5 years on the electronics and moving parts and a lifetime warranty on the steel and table top.
For a broader perspective on adjustable height desks, consider exploring our Adjustable Height Desks Comparison Review. And to stay updated with the latest ergonomic product insights, don't forget to subscribe to our monthly newsletter.
A feature many users find invaluable in standing desks and converters is the inclusion of grommet holes. These enhance workstation functionality, and we've covered everything you need to know about them, from their various uses to identifying the best ones, in our detailed article.
Lastly, post your standing desk or treadmill purchase, if you're pondering over disposing of your old office furniture, our primer on the best ways to discard old desks or treadmills might be of assistance.
Read more: Varidesk vs. S2S Workstation, which sit stand desk works for you?
Conclusion
For those of you who've grown attached to your existing desktops, the versatility of the standing desk shines through. You can opt for the base-only option, perfectly tailored to accommodate your current tabletop (do ensure it fits the size guidelines). We always champion eco-friendly choices, and this method is a commendable approach to recycle and reuse.
However, if you're in the market for a fresh tabletop, you're in for a treat. At Ergoprise, the range extends from GREENGUARD Indoor Air Quality Certified® and GREENGUARD for Children and Schools Certified laminates to sustainably sourced bamboo. While these come with added costs, they're investments in quality and environmental responsibility.
Read more: S2S Dual Comfort Plus Standing Desk