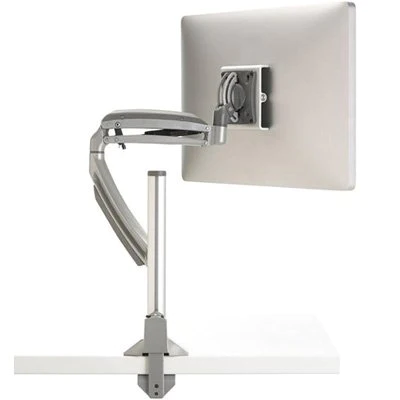 Chief Kontour™ K1 Series K1C120 Column Mount Single Monitor Arm
Usually ships in 5 to 7 business days

Incase the product you want is out of stock, please contact us. We can update you on availability or offer alternative solutions. We're here to help you get what you need.
Introducing the sleek and easy to use Kontour™ Series Monitor Arm by Chief. The Kontour™ Series Monitor Arm creates a more productive and comfortable workspace for your home or office. Elegantly designed with an aluminum body added for strength, the Kontour Series provides durability and stylish design.
The Chief Kontour™ K1 Series K1C120 Monitor Arm Features:
Sleek – solidly-constructed forged aluminum arms
Dynamic height adjustment – using gas-spring technology with additional adjustment along the column. Ideal for sit-stand applications.
Simple 3-step installation – integrated quick-release interface for easy mounting and maintenance
Tool-free cable management – covers for a clean, professional look
Patented Centris Extreme Tilt – Tilts -75/+10 for an ultimate ergonomic solution
Mounting options – Easily clamps to edge of desk, through standard grommet hole, or through bolt hole with included kit
Eco-Friendly – With high levels of recycled content & a highly-recyclable design, Chief Kontour™ monitor arms may contribute to valuable LEED-CI, -NC, and -EB credits!
The Chief Kontour™ K1 Series K1C120 Monitor Arm Specifications:
| | |
| --- | --- |
| LCD Range | 10 – 30″ |
| Tilt: | + 75° , – 10° |
| Height range: | up to 13″ |
| Desktop Thickness Range: | 0.5 – 3.25″ |
| Orientation: | Landscape, Portrait |
| Overall Dimensions | 15.0″ x 13.0″ x 2.1″ |
| Weight Capacity: | 5 – 25 lbs |
Specifications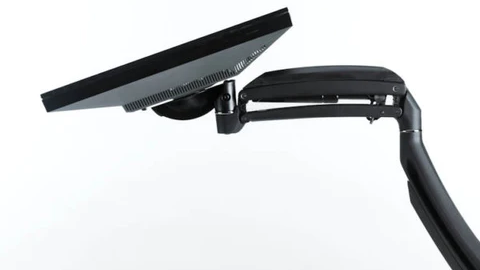 Are Chief products covered under a warranty? With the exception of electric, gas cylinder and one-way bearing mechanisms, Chief warrants its products to be free of defects in material and workmanship for 10 years. All warranties are in effect beginning the date the product was invoiced by Chief. Electrical mechanisms (such as lift products) have a 1-year limited warranty. Gas cylinder and one-way bearing mechanisms have a 5-year limited warranty.
All warranties are in effect for the original purchaser only. Chief disclaims liability for any modifications, improper installation and/or installations over the specified weight capacity. Chief also disclaims liability for any modifications made to electrical mechanisms, improper installation, incorrect voltage connection and/or installations over the stated weight capacity.
All Electrical Mechanisms are intended for indoor use only and failure to comply will void warranty. Chief's sole warranty obligation to the owner of its products is to repair or replace (at Chief's discretion) defective products at no charge to the original purchaser within the warranty period. The purchaser is responsible for returning the product to Chief Manufacturing via prepaid shipping.
To the maximum extent permitted by applicable law, Chief disclaims any other warranties, express or implied, including warranties of fitness for a particular purpose and warranties of merchantability. Chief will not be liable for any damages whatsoever arising out of the use or inability to use Chief products, even if Chief has been advised of the possibility of such damages. Chief bears no responsibility for incidental or consequential damages.
This includes, but is not limited to, any labor charges for the repair of Chief products performed by someone other than a Chief employee. Because some states and jurisdictions do not allow the exclusion or limitation of liability for consequential or incidental damages, the above limitation may not apply. Chief will not be responsible for damage to Chief products caused by misuse, abuse, failure to properly package the product for return to Chief or for damage caused by carriers during shipment to or from Chief.
Any repairs to Chief products required due to misuse, abuse or shipping damage or repairs of defective Chief product outside the warranty period will be performed at the current rates established by Chief for factory service.
Free Shipping Program
Most orders over $85 ship FREE within the continental United States. Shipments to Alaska, Hawaii, Canada, Mexico, U.S. territories, APO, and FPO addresses do not qualify for the free shipping program.
General Shipping Information
Most items ship via UPS Ground service. Some smaller items may be shipped via USPS instead. Desks and larger shipments may ship via a freight carrier.
If your items ships via common carrier (freight), the freight carrier will call to schedule an appointment for delivery. Our standard/free shipping includes curbside delivery. There may be extra fees for liftgate (lowers the product to the ground), residential, or inside delivery. Call us for more information. Note: It is important for you to immediately inspect freight shipments for damage and to note this on receiving paperwork. Call us immediately if your product arrives with shipping damage.
UPS and freight are not available to APO and FPO addresses. Call us if you have questions on shipping options to your location.
UPS items do not usually require a signature for delivery but this is at the discretion of the driver. Signature may be required in high risk areas.
We will email you an estimated ship date, and tracking information as soon as this is available.
The Kontour™ Series Monitor Arm by Chief creates a more productive and comfortable workspace for your home or office.
The Kontour™ Series Monitor Arm is easy to install
The Kontour™ Series Monitor Arm is built with solid aluminum arms.