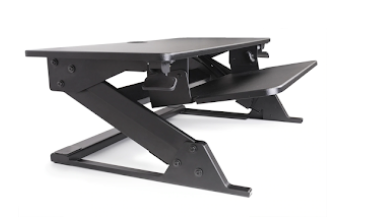 STANDTALL 36 SIT STAND WORKSTATION

Incase the product you want is out of stock, please contact us. We can update you on availability or offer alternative solutions. We're here to help you get what you need.
Introducing the ergonomic alternative to the Varidesk. The StandTall Sit-Stand Desktop Workstation by S2S Desks quickly and economically converts your workstation into an ideal sit stand workstation. Unlike the others, it offers the end-user a much more ergonomic work-surface by giving you the capability to type in a much more comfortable negative tilt. The only on desk sit stand solution that allows the keyboard tray surface to be set in a -10/+10 degree tilt.
The primary work surface can be adjusted 20″ above your desk. Adjusting the StandTall 36 is seamless and smooth and offers an infinite height adjustment, users can easily set it to their specifications.
This StandTall 36 Sit Stand Desk comes fully assembled which makes it incredibly easy to retrofit your workstation. The StandTall 36 is compact enough to fit on a 24″ deep workstation.
The large work-surface easily accommodates 2- 24″ monitors.
StandTall 36 supports up to 35 lbs. of equipment. The StandTall weighs 40 lbs.
Read more: Branch Ergonomic Chair vs. Daily Chair: A Comprehensive Comparison
Video Product Review & Compare
You can visit our Youtube Channel at :


Read more: S2S Comfort Plus Anti-Fatigue Mat