Are you seeking information on the Serta office chair review, including its benefits, drawbacks, and other characteristics? This post is for you since it is the most detailed review of Serta's ergonomic chairs. Let's get started right away!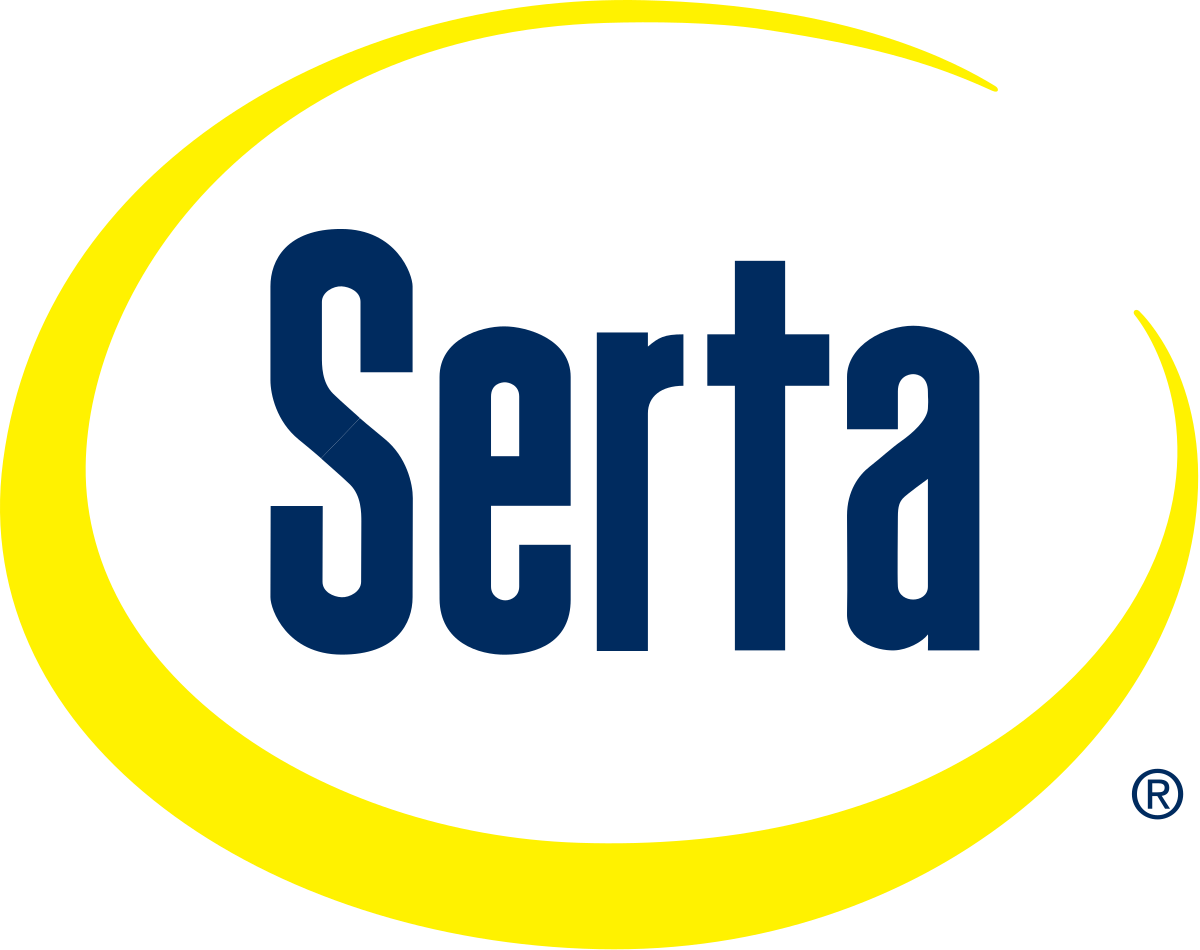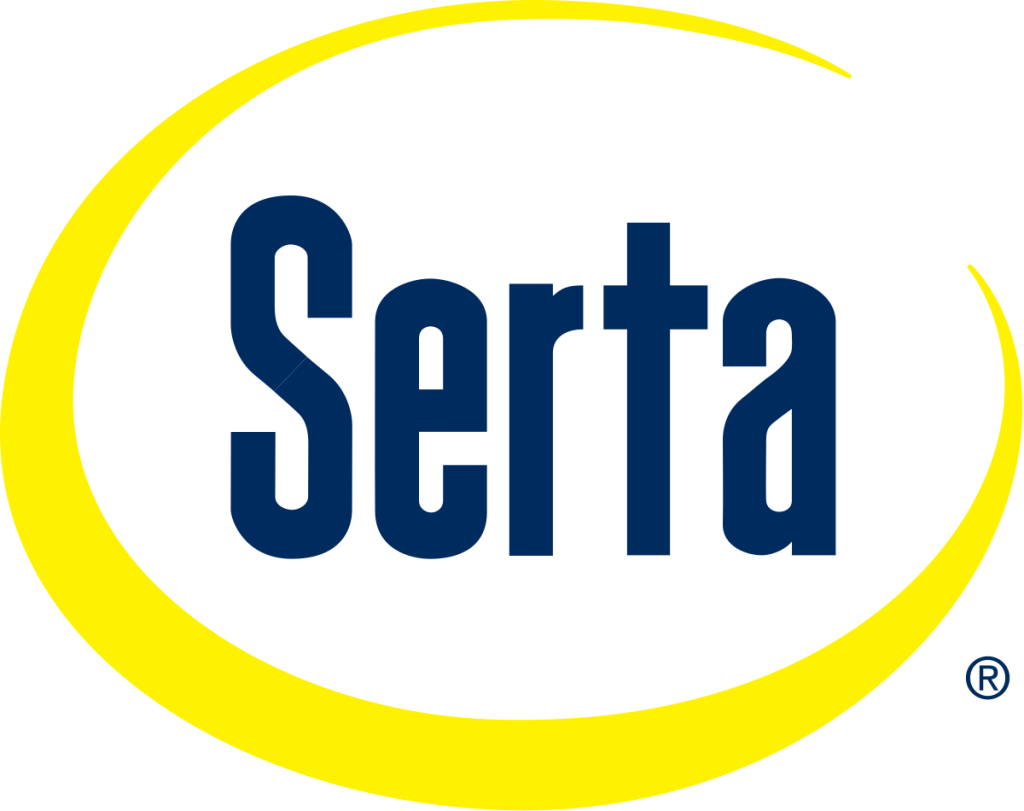 Overview Of Serta Chair
Serta is an American mattress company established in 1931. With the secret technology to produce the most comfortable mattress products for customers, the company has partnered with True Innovations to make the Serta office chairs.
The company's ergonomic office chair is built with a durable design that can support up to 350 lbs (158 kg). The product's frame is made of premium steel, and the cushions are pure soft fake leather with bonded leather covering.
Unlike other comparable items, the AIR Lumbar support of this type of chair is dynamic. It adapts to the body and seated posture of the user. This makes it an excellent chair for back pain.
Moreover, ergonomic cushions were used to cover the backrest and increase comfort. Ample padding on the armrests also provides excellent arm support when seated. Those chairs also have a pneumatic lift that customers may use to alter the height as needed.
Top 3 Ergonomic Models Of Serta Chairs
There are now more than 20 Serta chair models on the market. Let's find out which models are the most popular.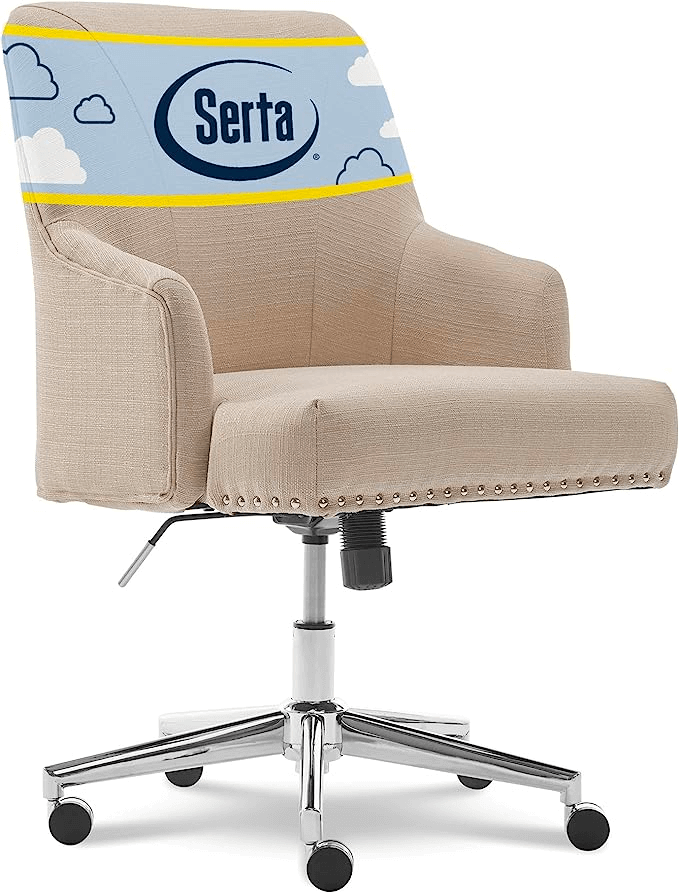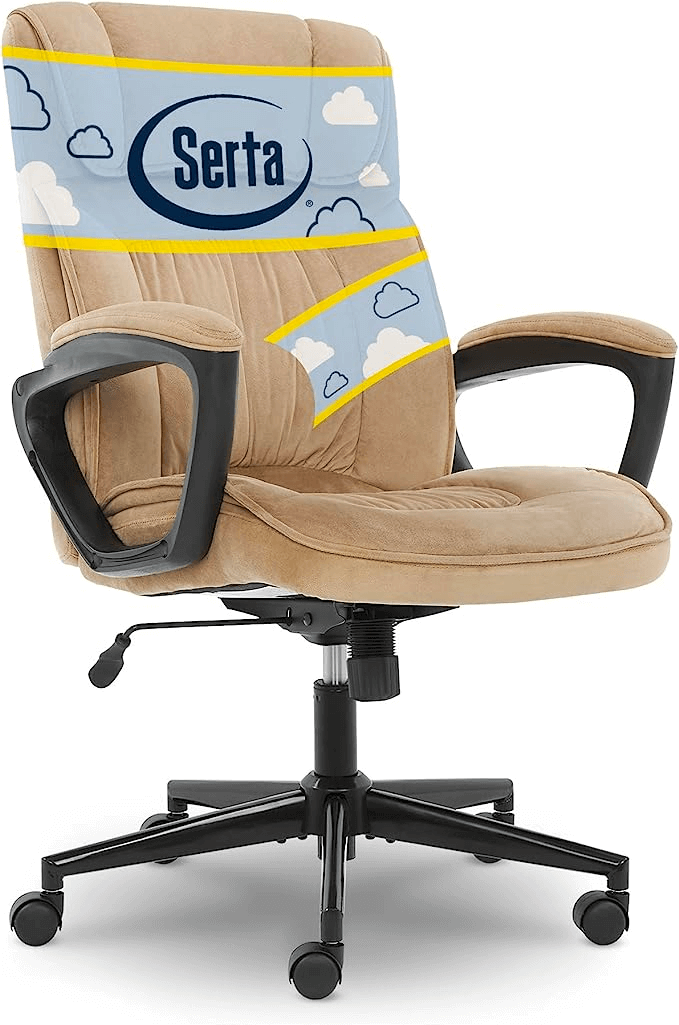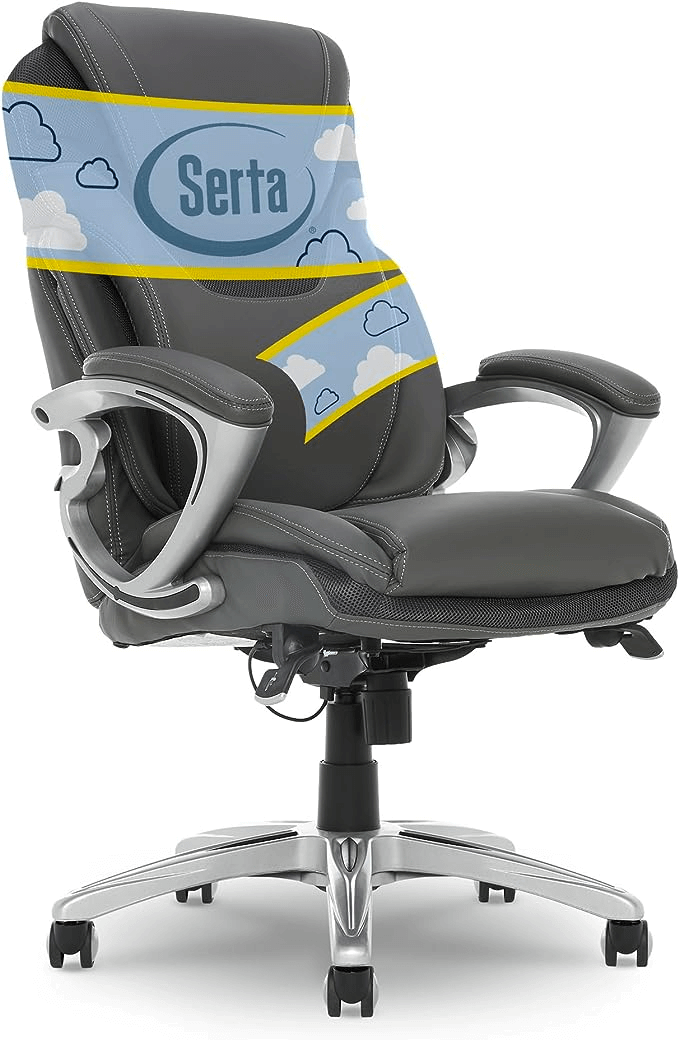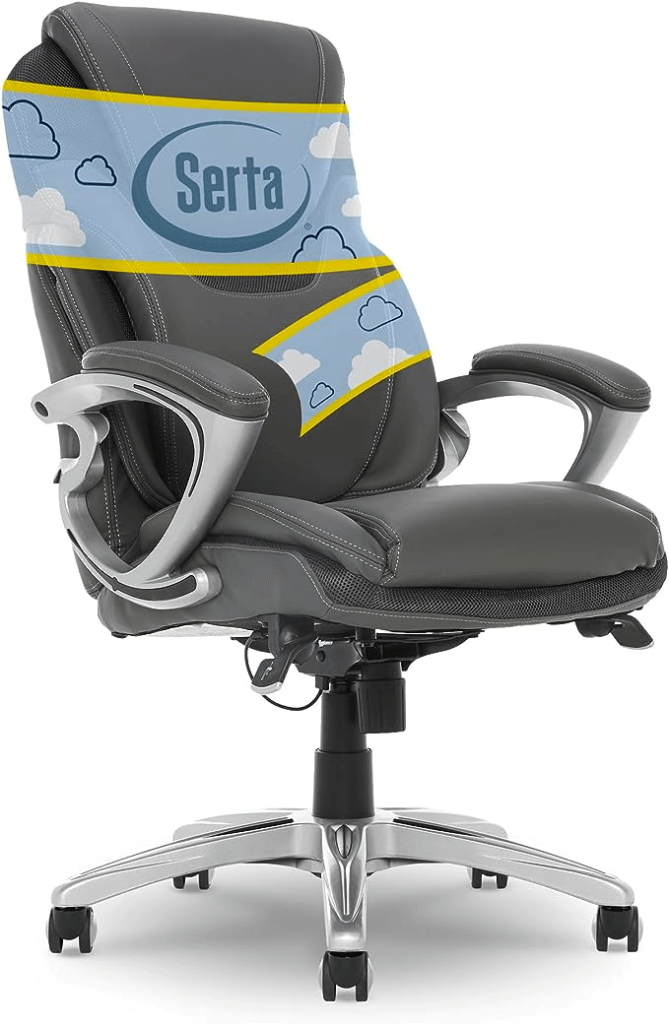 Serta Leighton Home Office Chair
Serta Hannah Office Chair
Most of the critical factors are met by this Serta office chair. It has a beautiful style and can give you all-day comfort.
This affordable chair has microfiber upholstery, armrests, and height adjustments.
The lumbar's distinctive shape will allow air to flow through the back, so it won't sweat excessively. It also provides a high degree of comfort and support.
Main Highlights Of Serta Chair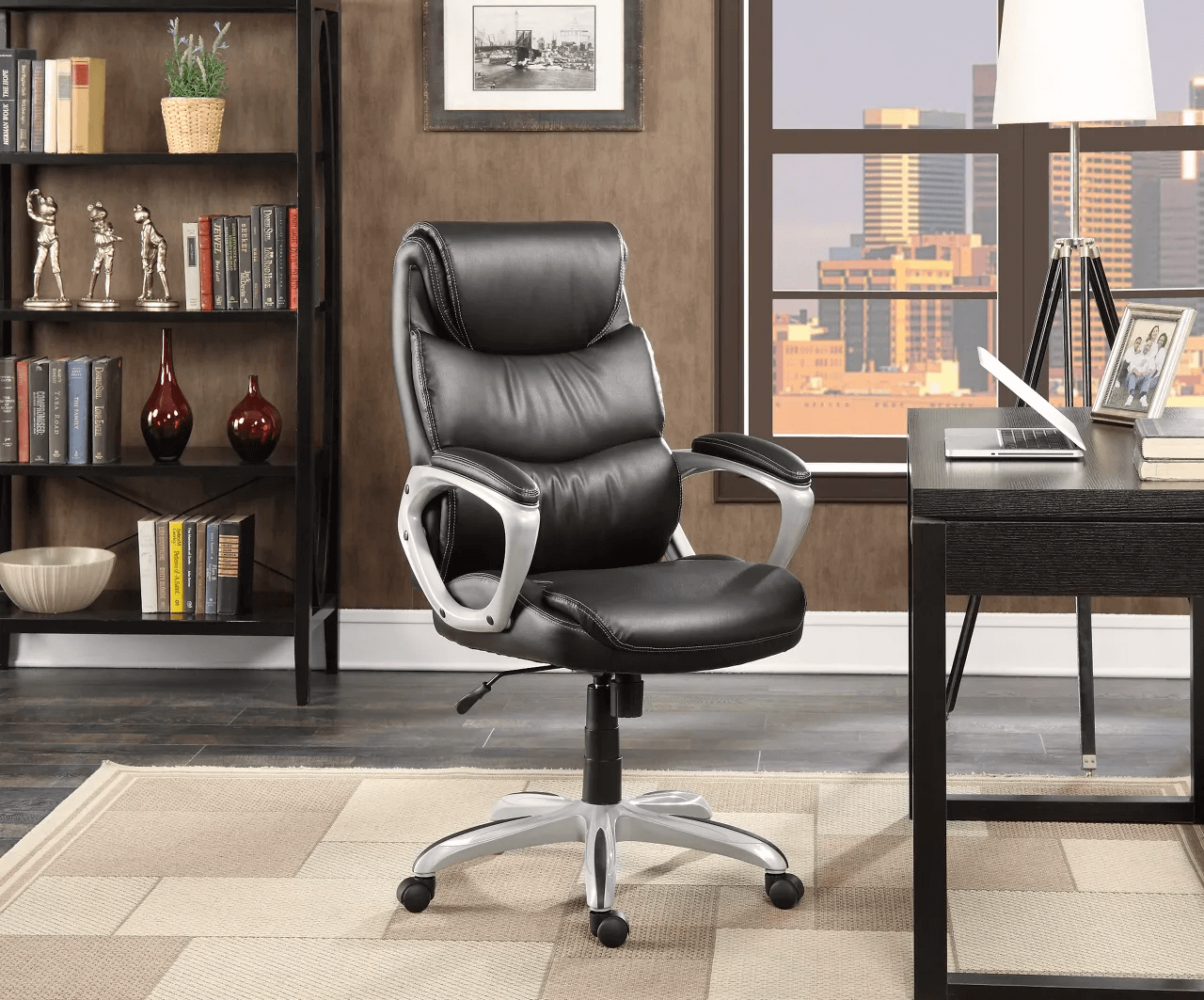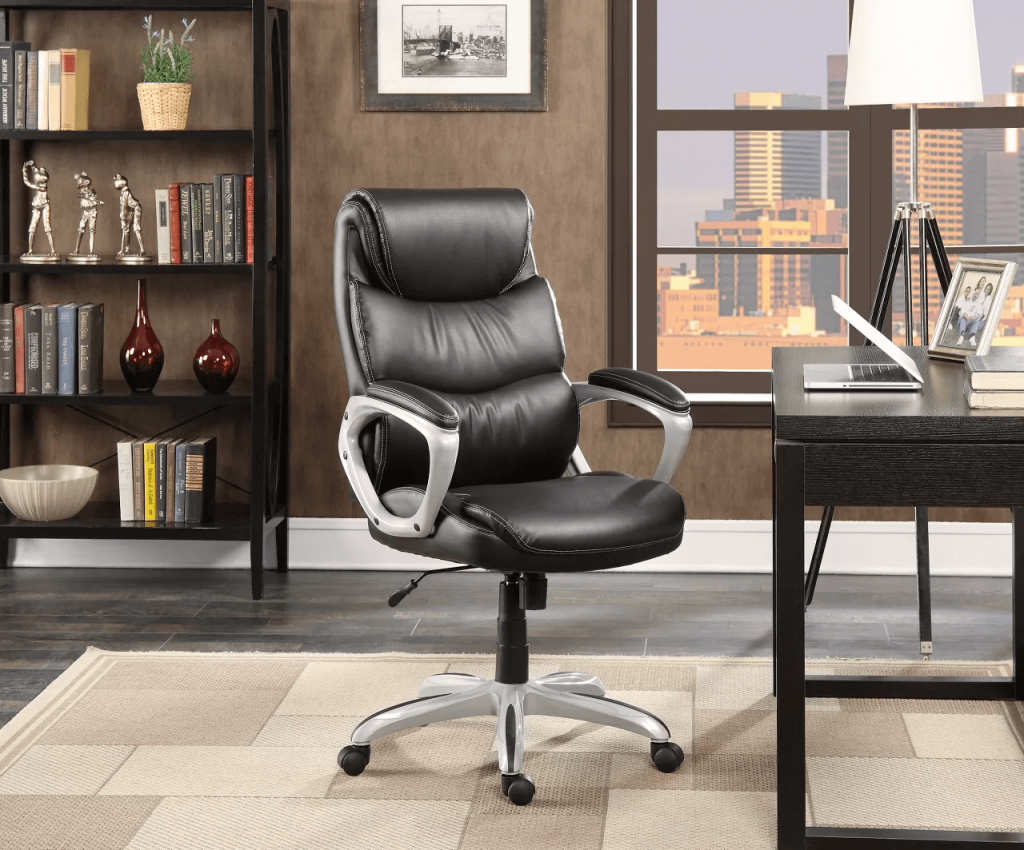 Now that you know more about the Serta office chairs, let's explore their characteristics in more depth.
Pros and cons
Design
Serta office chairs' design is pretty simple. It is a standard office chair with an ergonomic structure and enhanced comfort. Regarding looks, the leather upholstery makes it appear pretty modern and exquisite. Furthermore, it is quite subtle and easy to incorporate into any interior.
Although it has a basic design, the Air lumbar support can make you feel quite comfortable. As you bend, twist, and move about in it, it molds to your body. It also features a swivel, padded armrests, and a high, full back.
Adjustability
This type of chair keeps to the fundamentals regarding adjustability. The height and the back tilt may be adjusted, but the lumbar support, armrests, and headrest are not. This type is not as advanced as other of the leading office chairs.
Read more: e Chair Review
Comfort
Serta's specialty is in providing comfortable sleep, so it's no surprise that they've built a comfy chair where we'll spend the next eight hours of our day. This type of chair has Air lumbar support, which contours to your body as you lean, twist, and move around in it. It also has coil springs and memory foam to support your tush all day.
Material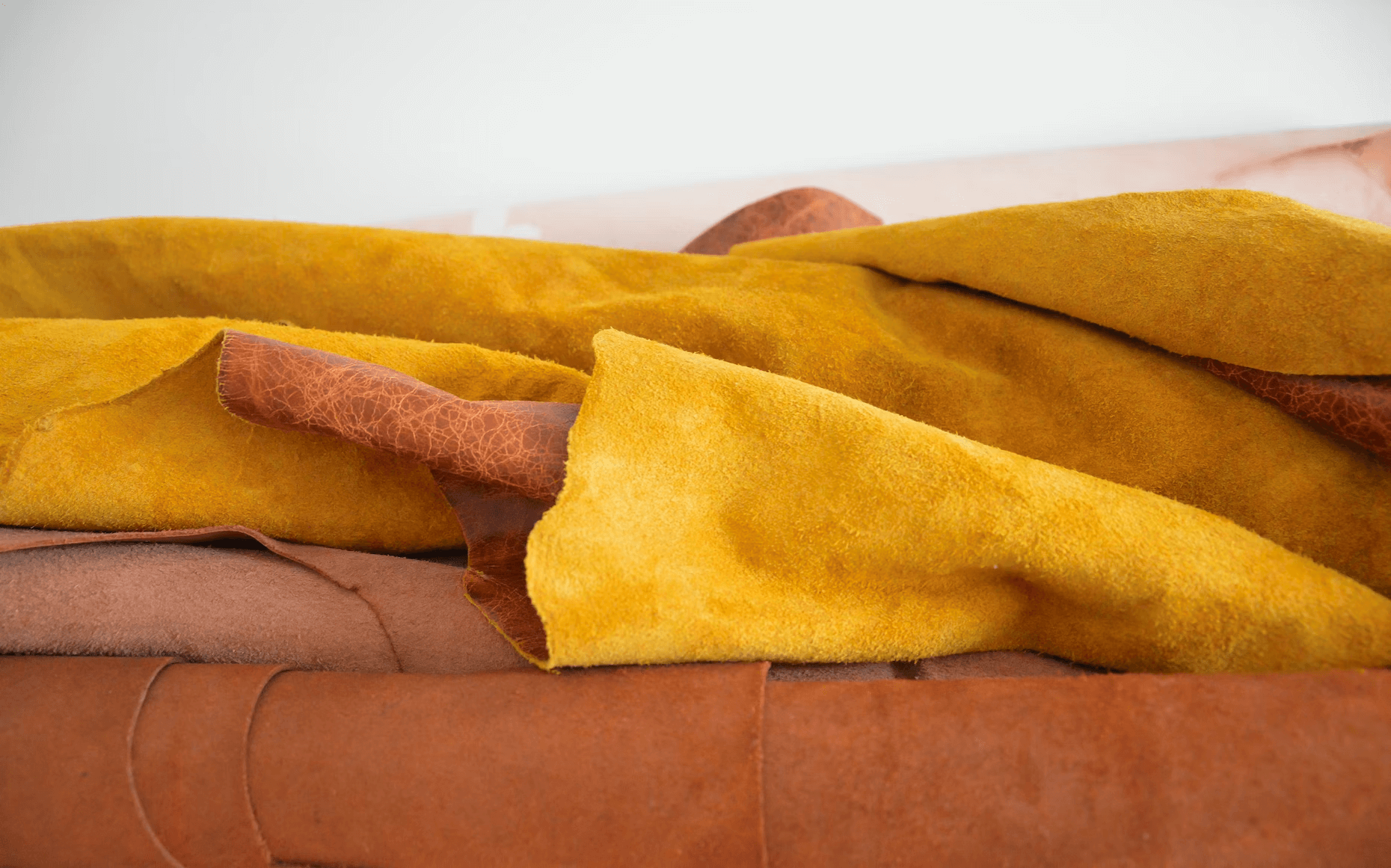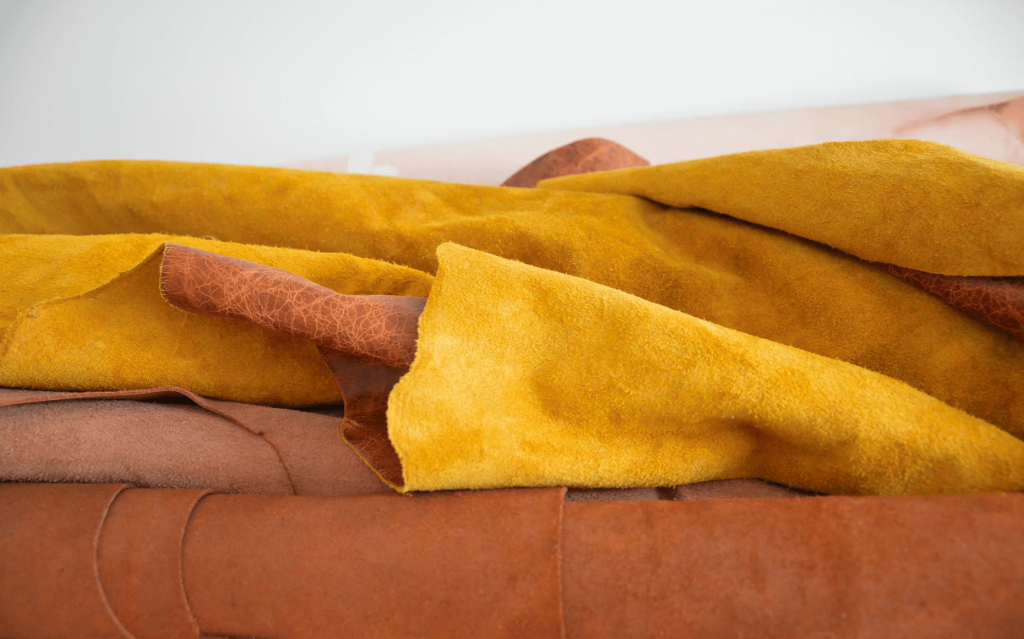 These chairs' sturdy construction allows them to support a lot of weight. The metal frame connects everything and offers stability, while the soft cushion padding provides relaxation. The armrests are additionally padded for added comfort, and the chair is wholly upholstered in bonded fake leather.
Durability
These chairs are exceptionally durable because of their robust structure and high-quality materials. If properly cared for and maintained, this chair may last ten years.
Performance
Regarding performance, this chair offers the right amount of body support. It boasts a waterfall-edged seat, a high back, lumbar support, and a cushioned headrest for maximum comfort.
The armrests are included, and everything is softly and thickly padded for increased comfort. As a result, it completely supports a good sitting posture and keeps you relaxed and at ease all day.
Price
This chair is unquestionably one of the most reasonably priced ergonomic office chairs on the market. It has exceptional quality, a high-grade design, and a 1-year warranty. So it's a budget-friendly star.
Our verdict
Serta chairs are a popular choice for people searching for soft, comfy seats at a low cost. With many features like comfort, durability, and design, they are appropriate for various settings, including the office, working from home, and relaxing. However, if you want chairs that are easily adjustable and have additional ergonomic features, you should consider purchasing other than a Serta chair.
Customers Review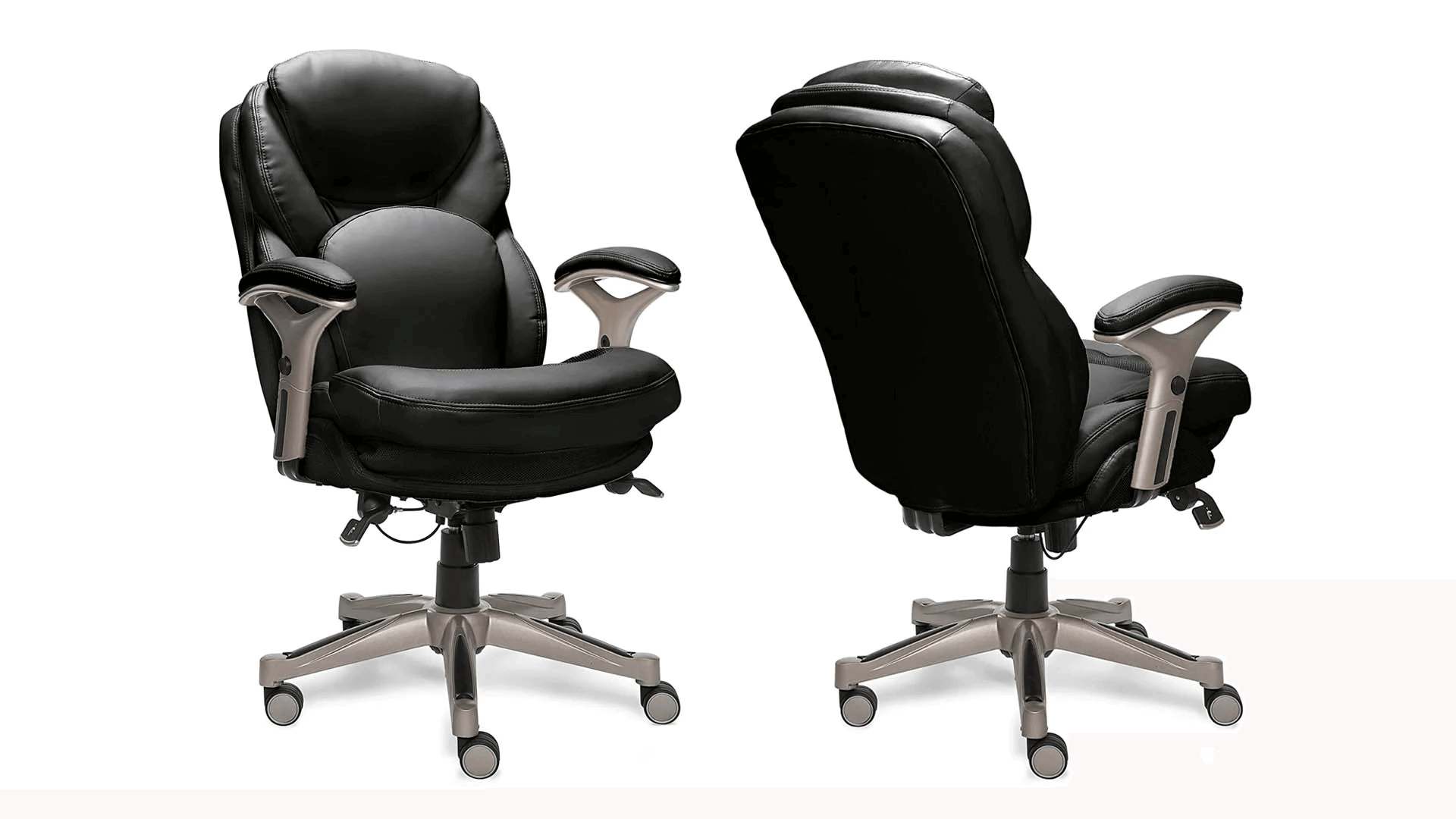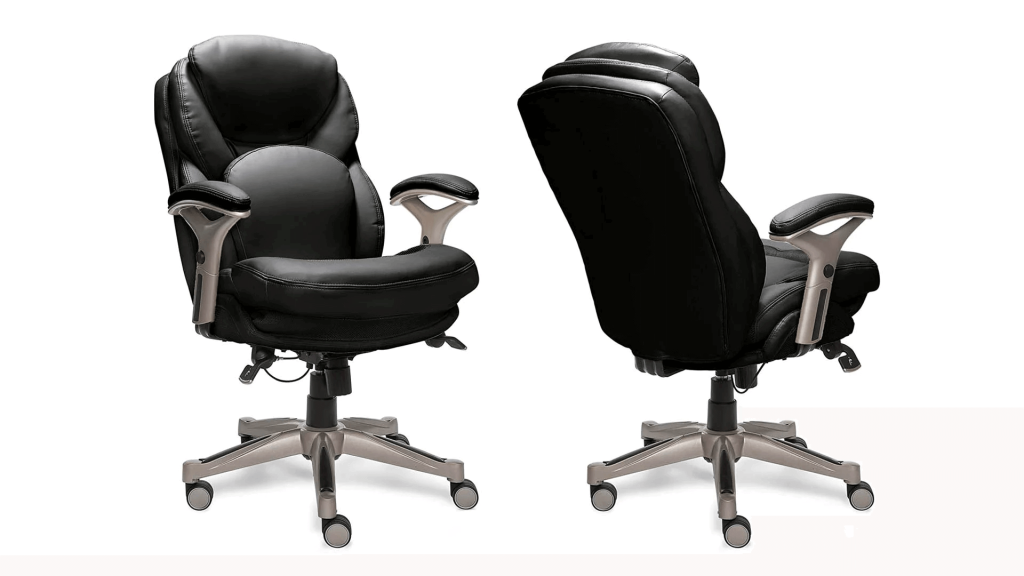 Customers are pleased with their Serta office chairs. The words most commonly used to characterize this sort of office chair are "soft", "comfortable", and "durable".
The sleek and attractive designs easily integrate into a variety of workplaces. The material's breathability guarantees a cool and comfortable sitting experience. It is as relaxing to use as possible. And with an affordable price, this office chair is one of the best products in the market.
Read more: Flexispot Office Chair Review
Conclusion
Whether you pick a Serta office chair or not, we hope this information is helpful to you while you shop for an office chair. So if you need more information, please comment below.
Learn more about the Serta ergonomic chair through this video:
Is the Serta office chair suitable for long hours of sitting?

The Serta ergonomic chair is the finest for posture since it has lumbar support and pillow padding that adjusts to the user's position. With this type of chair, customers can sit comfortably for long periods thanks to the soft cushions and pillows. 

Do Serta office chairs have customizable features for individual preferences?

When it comes to flexibility, these ergonomic chairs stick to the basics. The height and back tilt may be modified, but not the lumbar support, armrests, or headrest. As a result, you cannot constantly personalize those chairs to meet your specific needs.

Can Serta office chairs accommodate different body types and sizes?

Serta offers a wide range of chairs, some of which can support up to 350 pounds. Furthermore, it has many large and tall chairs that give optimal neck support for taller persons thanks to an elevated headrest design. As a result, it can accommodate people of all body kinds and sizes.