In the world of office chairs, a debate has long persisted between leather and cloth. The choice between these two materials can significantly impact your productivity. Let's explore the key differences and benefits of these two types and select the ideal option for yourself!
Comparison Table: Cloth Vs Leather Office Chair
Here's a comprehensive comparison table highlighting their key features!
| | | |
| --- | --- | --- |
| | Cloth Office Chair | Leather Office Chair |
| Comfort | Provide a softer and more cushioned feel. | Offer a balance of firmness and support, molding to the body's contours over time for enhanced comfort. |
| Breathability | Offer better airflow, reducing perspiration. | Are less breathable and may cause discomfort during prolonged use. |
| Durability | Is more prone to staining, fading, and wear. | Is highly durable, resistant to stains, and maintains its appearance for a longer period. |
| Maintenance | Are generally easy to clean and may be washed. | Are easy to clean but might require special cleaners and conditioning to keep them in good condition. |
| Style | Come in various colors, patterns, and textures, allowing for greater customization. | Convey a sense of luxury and prestige, often associated with executive or high-end office settings. |
What Are The Key Differences Between Cloth Office Chairs And Leather Office Chairs?
To make a thorough decision, let's delve further into the characteristics of leather vs cloth office chairs and see what they offer.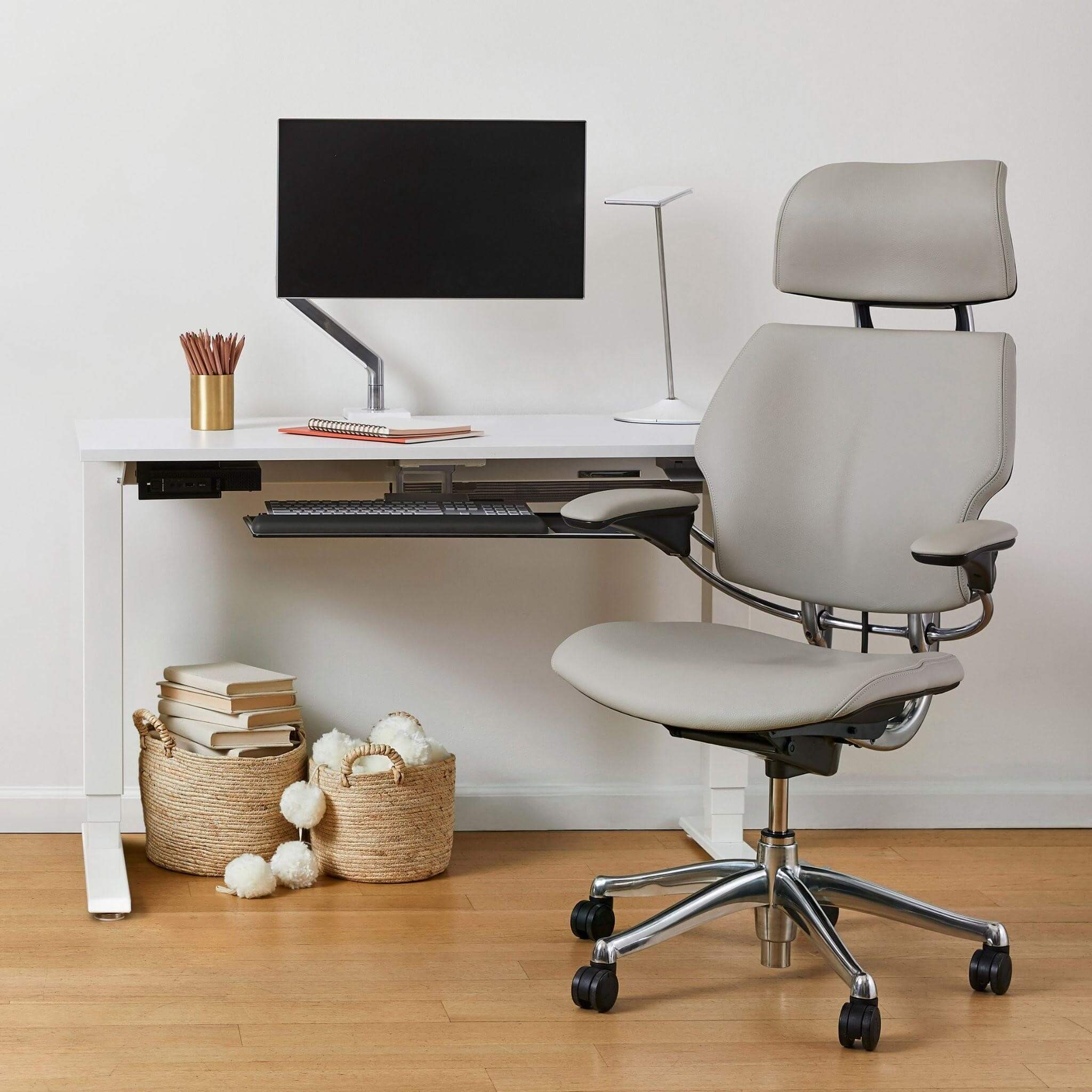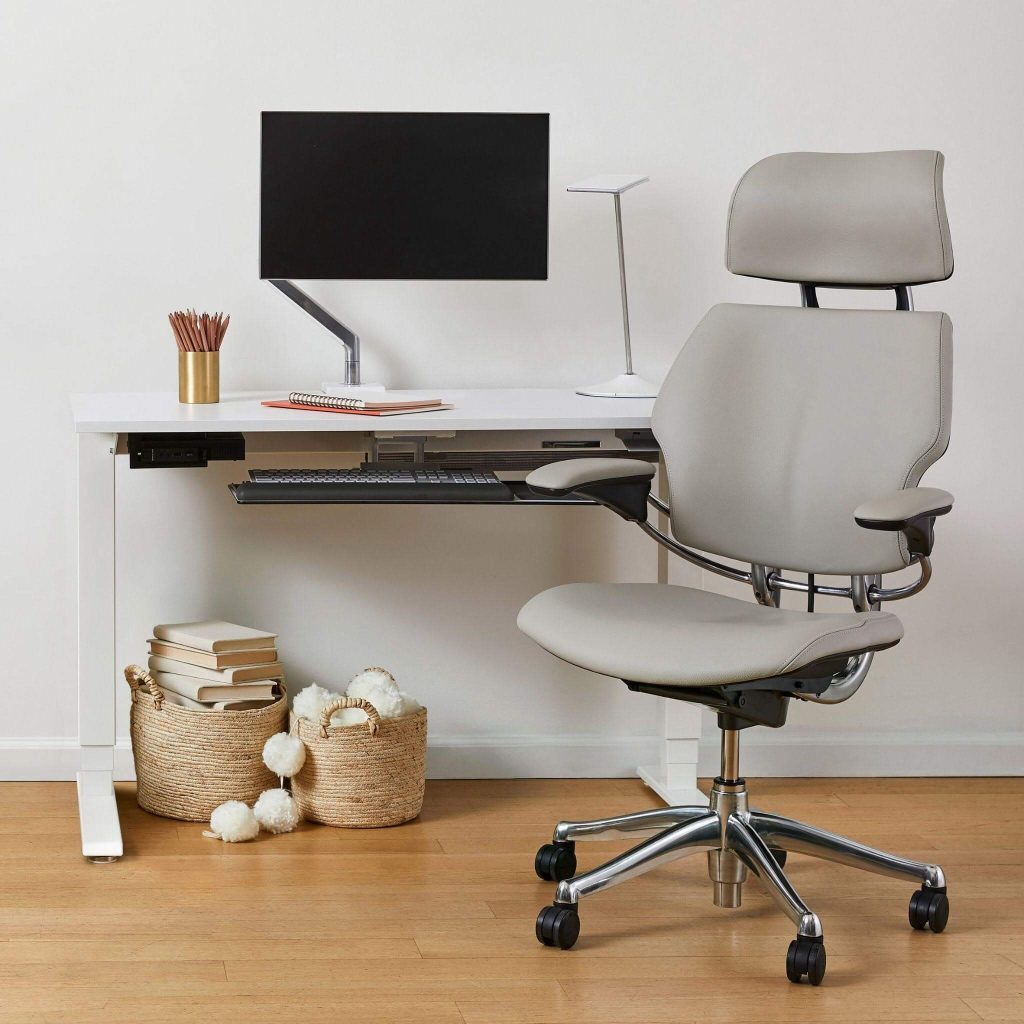 Style and design
When it comes to style and design, cloth and leather chairs differ greatly. Cloth chairs offer a modern and simple look, their appearance is familiar and can fit into any in-house decoration.
On the other hand, the appearance of the leather material brings a sense of elegance and luxury. Their look offers a touch of professionalism to your office. They can come in different colors to better fit your workspace.
Breathability
If you prefer a high-breathability chair, cloth chairs are the better options. The material allows better air circulation and ventilation, making it more comfortable for prolonged use.
Leather doesn't have the same level of breathability. They may be a little sticky and stifling, especially in hot weather. This may cause discomfort and irritation if you use them for long hours.
Durability
Leather chairs are well-known for their durability. The material itself is resistant to wear and tear, some of them are even water-proof. This helps protect them from everyday wear and tear, stains, and spills. They can last for years with the same quality if cared for properly.
Meanwhile, cloth chairs are prone to crack and tear more over time. This material is also easy to absorb stains and spills, especially if the color is bright.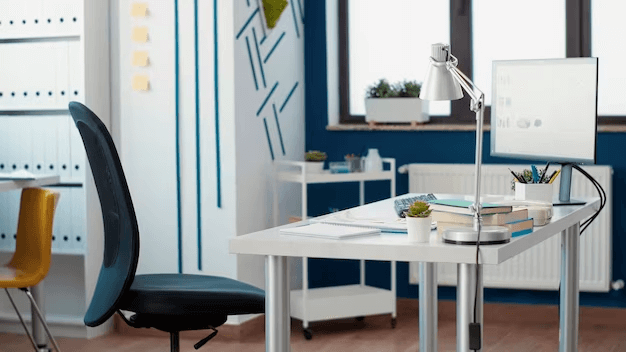 Read more: Fabric Vs Leather Office Chair
Maintenance
The cloth material can be easy and hard to maintain simultaneously. You can wash them with ease using water with mild detergent or soap. However, they are prone to spills so it can be hard to get rid of the stains.
Leather is a resilient material and is famous for its ability to withstand wear and tear. But if you wish to maintain its appearance and shine, you may need to use a specific conditioner.
Cleaning
When it comes to cleaning between leather vs cloth office chair, leather offers a better deal. Leather chairs are straightforward to clean as they do not absorb stains and spills like cloth chairs. You can use a moist cloth to wipe down the chair's surface to clean the spills and dust.
In contrast, cleaning cloth materials can be trickier as they aren't water-proof and are prone to stains and spills. These chairs also require regular vacuuming or spot cleaning to eliminate dust.
Ergonomics and comfort
Ergonomics and comfort play a vital role when choosing between these two types. Cloth chairs often offer more breathability and flexibility, keeping you cool during long work hours.
On the other hand, leather chairs exude a luxurious appearance and offer a high level of comfort. Prioritize your needs and consider factors carefully when making your choice.
Price
The price range for leather office chairs can vary depending on the features and brand, but they typically range from $100 to $2,000. But cloth office from $50 to $500.
How To Care For Cloth Vs Leather Office Chair?
Caring for your office chair is crucial to maintain its appearance and longevity. Cloth chairs can be cleaned by vacuuming regularly and treating stains with fabric cleaner. You should remember to avoid excessive moisture to prevent mold or mildew growth.
Leather chairs require conditioning to keep the material supple and prevent cracking. You can wipe spills with a damp cloth and use a specific cleaner for regular maintenance. With this material, it's essential to avoid placing them in direct sunlight to prevent fading. Regular dusting and avoiding sharp objects can help preserve its quality and extend its lifespan regardless of the chair type.
Read more: Kneeling Chair Vs Office Chair
Conclusions
When choosing between cloth and leather office chairs, consider your preferences, budget, and all their features. Understanding the key differences and weighing your priorities will help you make an informed decision about cloth vs leather office chairs. Let's find the best match for your workspace!
Are cloth chairs good for sitting all day?

Cloth chairs can be comfortable for sitting all day, especially if they have additional ergonomic features such as good lumbar support and cushioning.

What is the best cloth for office chairs?

The best cloth for office chairs depends on your preference. However, materials like mesh or fabric with good breathability and durability are often recommended for optimal comfort and longevity.

Do cloth seats smell more than leather?

Cloth seats have the potential to retain odors more easily than leather seats, as fabrics can absorb smells. Regular cleaning and proper maintenance can help remove any potential odor issues.