Although reupholstering an office chair may appear complex, it can be a fun and gratifying project with the correct equipment, materials, and advice.
Not only will you save money by not buying new furniture, but you can also give your office a fresh look. In this blog, we will bring up some easy tips on how to reupholster an office chair.
What Are The Benefits Of Reupholster Office Chairs?
Reupholstering an office chairs has several benefits, including:
Cost-effective: Reupholstering your office chairs is a low-cost option to update their appearance without purchasing a new one. You can save money by reusing the seat's frame and changing the cloth.
Customization: By reupholstering your office chairs, you can select the fabric and color that matches your office decor and personal style. Adding extra padding or features can make the chairs more comfortable.
Sustainability: Reupholstering your office chairs is a sustainable option as it reduces waste by reusing the chair's frame. It also minimizes the amount of furniture that ends up in landfills.
Durability: If your office chair has a sturdy frame, reupholstering it can extend lifespan. High-quality fabric and proper maintenance can ensure your chairs look great and stay relaxed for years.
Health benefits: A well-upholstered office chair can support your back and neck better, reducing the risk of developing musculoskeletal disorders. Also, it improves your posture and helps you maintain a healthy work environment.
Read more: How To Adjust An Office Chair
How To Reupholster Your Office Chairs?
Reupholstering your office chair is a great way to give it a fresh appearance without buying a new one. Here are the steps you can follow to reupholster your office chairs: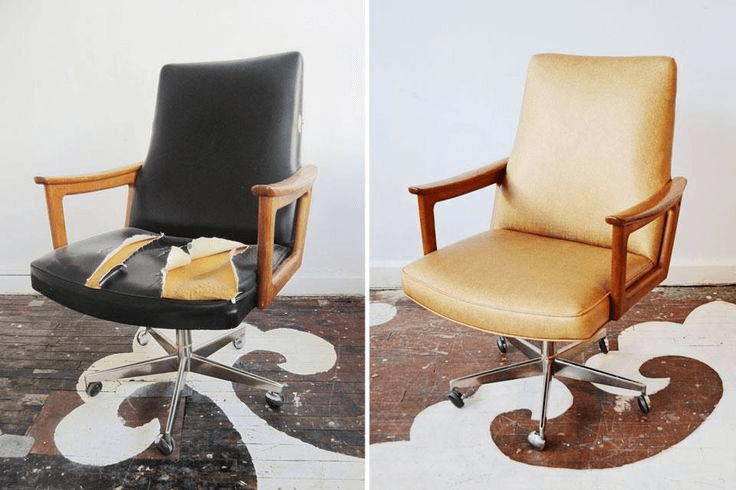 Materials you will need
Screwdriver
Staple gun
New fabric
Scissors
Upholstery foam (optional)
Piping or trim (optional)
Step by step to reupholster your office chairs
Step 1: Disassemble the chairs
The first step in reupholstering office chairs is to disassemble them. You can use a screwdriver to remove bolts or screws that hold the chairs together. Be sure to keep the pieces safe to reassemble the chairs later.
Taking a photo of the chairs before you start disassembling them is a good idea to reference how it goes back together.
Step 2: Remove existing upholstery
After disassembling the chairs, you can begin removing the existing upholstery. Remove staples or tacks holding the fabric in place with a staple remover or pliers.
Take care not to harm the foam or cushioning beneath. Additionally, you can pry the staples out with a flathead screwdriver if the nails are stubborn.
Step 3: Assess the padding
As you remove the old upholstery from your chairs, take a moment to evaluate the condition of the padding. Replacing them with fresh upholstery foam may be necessary if you notice signs of wear or damage. This step is vital to maintain optimal comfort and support.
Upholstery foam can be conveniently purchased from craft stores or online retailers. After that, measure your chair's dimensions and carefully cut the foam to fit perfectly.
Step 4: Cut the new fabric
To fit the chairs, measure and cut your new fabric. Leave enough material to wrap around the chair's edges and underside.
Cut the foam to fit if the foam cushioning needs to be replaced. Cutting the new cloth using the old fabric as a template is a good idea.
Step 5: Attach new fabric
Attach the new cloth to the frame with a staple gun at the bottom of the chairs. Pull the material taut as you staple it, keeping the fabric's pattern or grain straight. Work your way around the chair, stapling the fabric in place as you go.
Read more: How To Clean Office Chair
Step 6: Trim excess fabric
Trim any excess fabric using scissors once the material has been stapled. Make careful to leave extra cloth to tuck below and staple to the chair.
Step 7: Reassemble the chairs
Once the fabric is in place, it's time to reassemble the chair. Use a screwdriver to reattach any bolts or screws that hold the chair together. Moreover, you should ensure all the pieces are secure, and the chair is stable.
Step 8: Finishing touches
You can add piping or trim to your chairs for a decorative touch. Use a hot glue gun or a staple gun to attach the piping or frame to the edges of the chairs.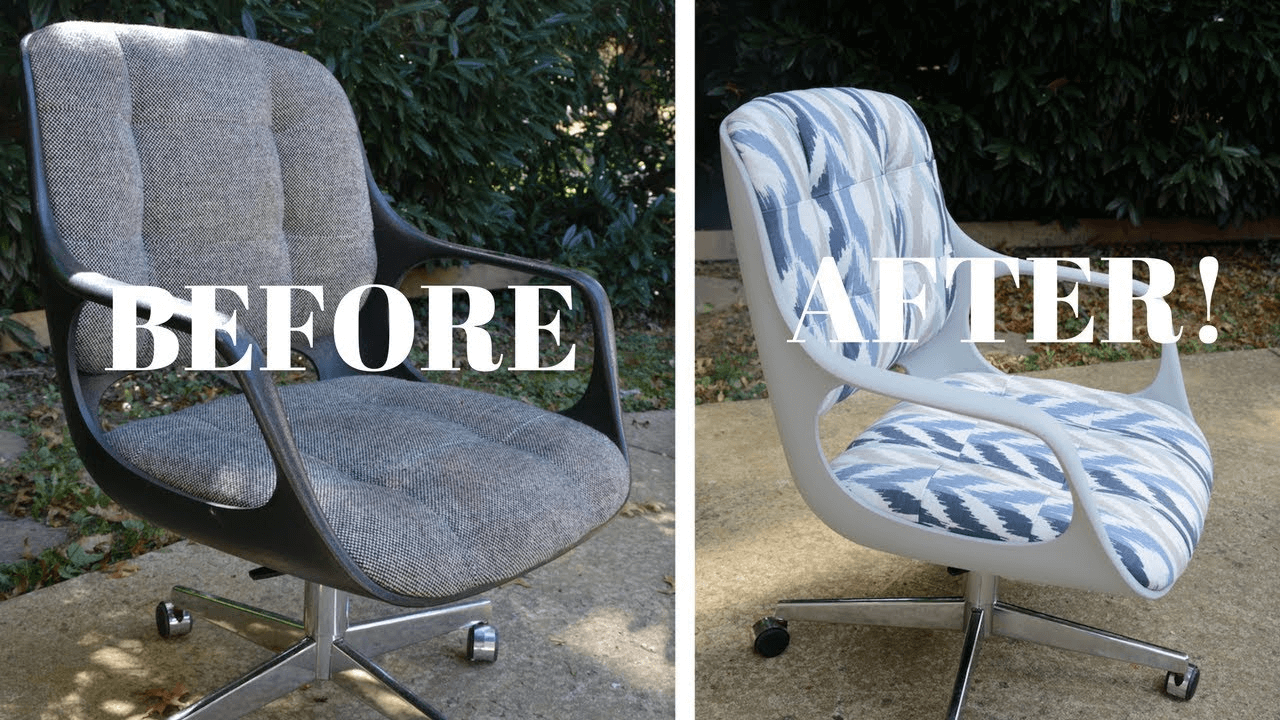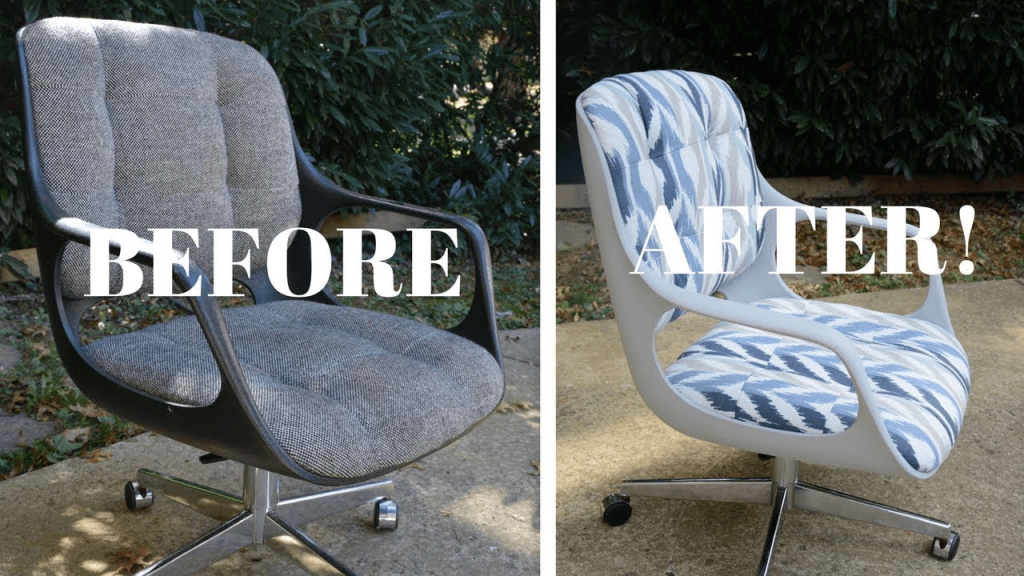 Conclusion
How to reupholster an office chair? Whether you want to update the fabric to match your office decor or make your chair more comfortable, these tips will help you finish the job quickly and easily.
Can you give more information, please watch this video below:
Can I reuse the existing foam padding in my office chair?

Whether or not you can reuse the existing foam padding in your office chair depends on its condition. If the foam is still in good condition, meaning it's not sagging or damaged, you can reuse it. However, if the foam is worn out, damaged, or has lost shape, it's best to replace it with new foam padding.

Can I reupholster any office chair?

In general, most types of office chairs can be reupholstered. However, some chairs may have more complex shapes or features, making them more challenging to reupholster than others. It's essential to assess the chair's condition and design before starting a reupholstery project and consult a professional if you need clarification.

Is it worth it to reupholster a chair?

If an item is well-made and in good condition, it is usually worth reupholstering. Check the following before selecting whether to pass or reupholster: Make sure the bottom frame is made of hardwood and has been kiln-dried.