When you think about workplace chairs, executive chair vs office chair are two popular of certain kinds. They have similarities and many differences. Do you know the distinctions between them at all? If not, the answer is in the text as follows.
Comparison Table: Executive Chair Vs Office Chair
A conventional office chair serves the same purpose, but an executive office chair has a more modern look and offers a few more advantages. In addition to using higher-quality materials, this design comes standard with arm and headrests.
Here is an extensive examination of the major characteristics of these two types of workplace furniture.
| | | |
| --- | --- | --- |
| | Executive Chair | Office Chair |
| Seat | This is a high-end or premium seat. | This is a simple seat with some comfort characteristics. |
| Adjustment | You can change the height, armrest, backrest, and other functions. | You can change the height, armrest, and backrest. |
| Comfort | The most comfortable | The less comfortable |
| Backrest | Feature tall and well-padded backrests, providing excellent support for the entire back, including the upper back and shoulders. | Back support and ergonomics with adjustable backrests can recline and lock in various positions. |
| Armrest | Wider and padded armrests. They provide a comfortable surface for resting the arms and shoulders. The armrests may have many adjustments or be fixed in a comfortable position. | Have adjustable armrests. That can be raised, lowered, or repositioned to suit individual preferences and tasks to support proper arm and shoulder alignment. |
| Footrest/ Footring | Do not come with built-in footrests or foot rings. | Most office chairs do not include footrests or foot rings as standard features. |
| Users | This is a chair used by a person in positions of authority in a business. | This is a chair that regular employees use in a business. |
What Are The Key Differences Between Executive Chairs And Office Chairs?
In this article, we'll examine the critical differences between the two forms of workplace chairs: executive chair vs office chair.
Comfort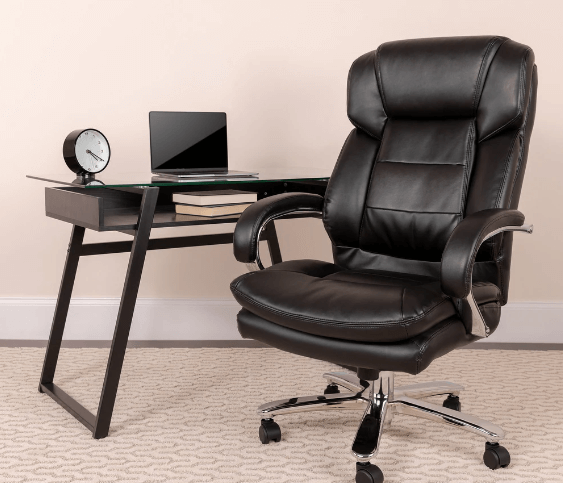 Executive chairs are often designed with extra padding and plush materials. This provides a more luxurious and comfortable sitting experience. Work seats rank functionality and ergonomics over plushness. Despite this, many office chairs still offer a high level of comfort.
Ergonomics
Ergonomics is a primary focus for office chairs. They have adjustable features such as chair height, armrest height, backrest angle, and lumbar support. Administrative seats may also have some ergonomic features. But they focus on style and appearance over advanced ergonomic adjustments.
Design and Style
Executive chairs are known for their high-end designs, premium materials, and sophisticated aesthetics. They often have a more traditional and formal appearance. This makes them appealing for administrative offices and boardrooms. Office chairs come in various designs, from minimalist to contemporary. This also makes them more focused on practicality and functionality.
Read more: Drafting Chair Vs Office Chair
Portability
Work chairs are designed to be lightweight and easy to move around. They often come with casters or wheels that allow for smooth mobility within an office space. Otherwise, executive chairs are heavier and less portable. As they are intended to provide a stable and stationary seating option.
Adjustability
Office stools have a higher level of adjustability compared to administrative chairs. They offer a range of customizable features such as chair height, backrest tilt, armrest position, and more. Executive chairs need more adjustable options.
Lumbar support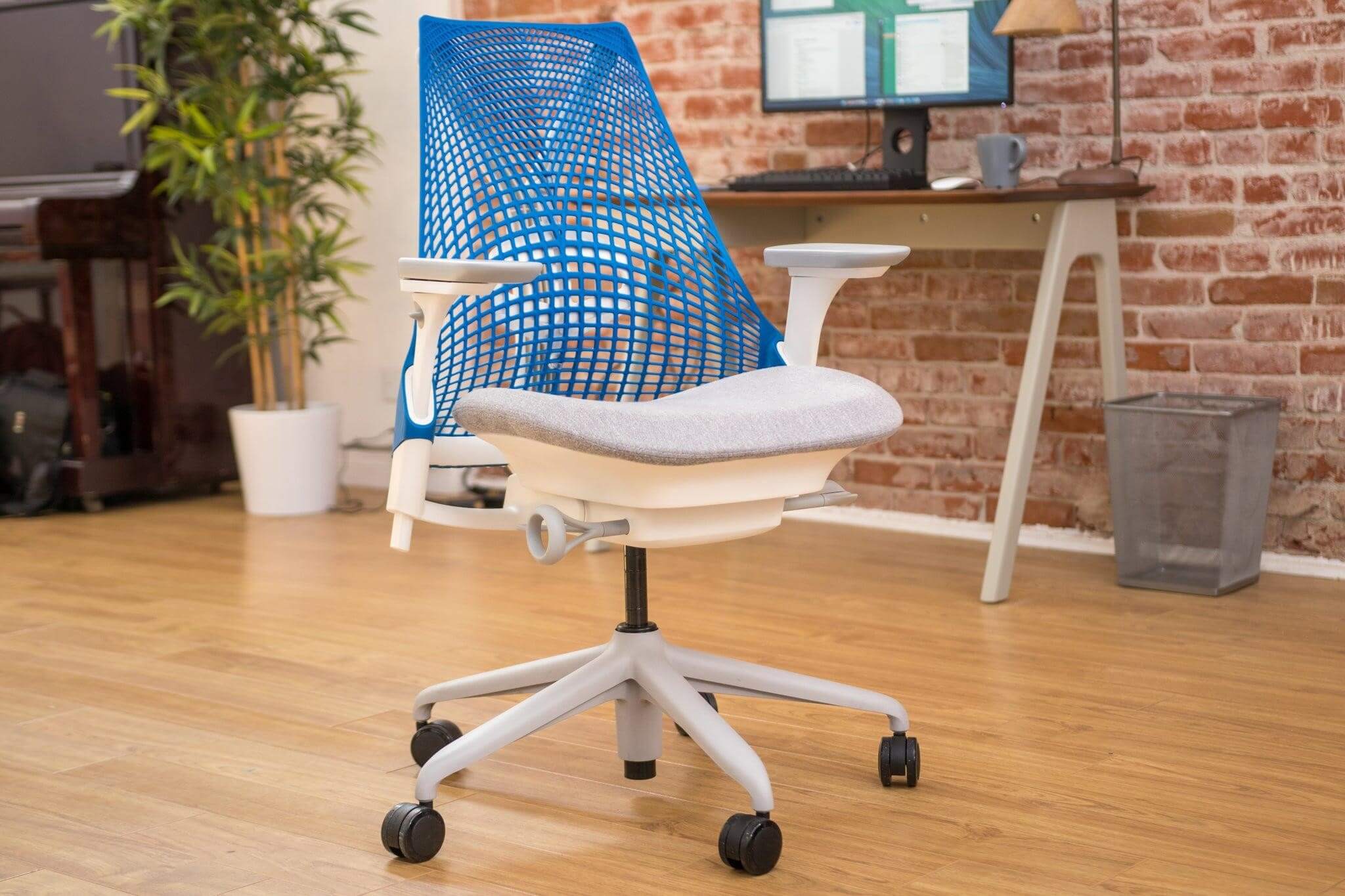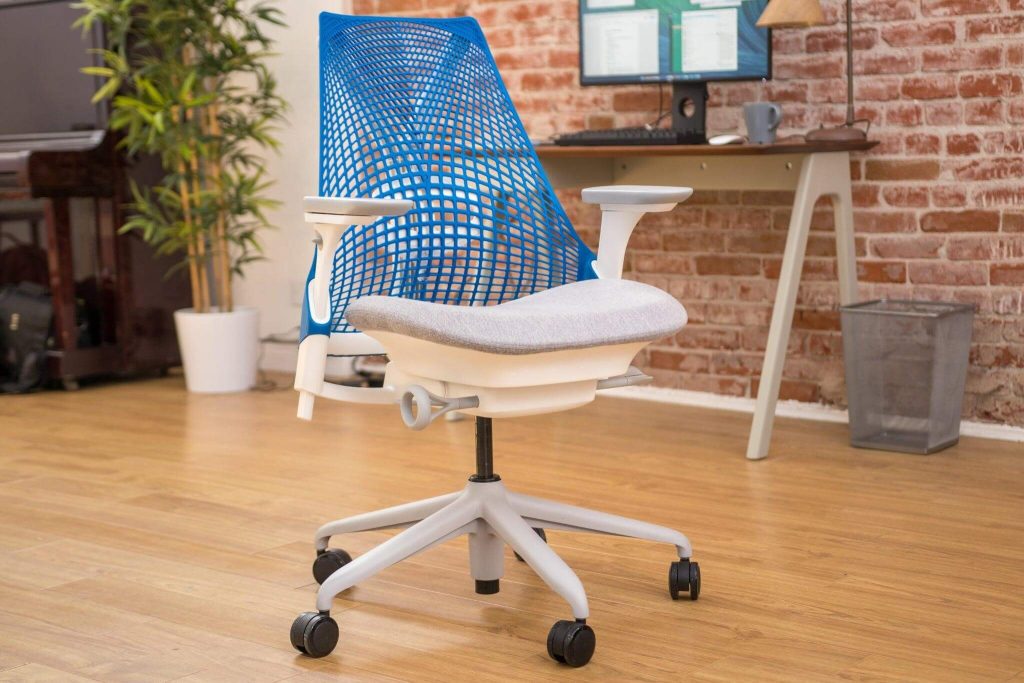 Both executive stools and office chairs can provide lumbar support, though office chairs often rank this feature more. Many office chairs feature adjustable lumbar support. This ensures proper positioning and comfort during long hours of sitting.
Purpose to use
Workspace chairs are designed for use in office settings. They provide comfortable seating options for tasks such as desk work and computer use. Executive chairs are often associated with higher-level positions. They also are used in administrative offices, conferences, and formal meeting spaces.
Price
The price range for executive chairs can vary depending on the features and brand, but they typically range from $200 to $2,000.
The price range for office chairs can vary depending on the features and brand, but they typically range from $100 to $1,000/
Executive Chair Vs Office Chair: Which One Is The Best?
When selecting a chair, you must consider your specific needs, priorities, and budget to find the best fit for your workspace. Both types of chairs have distinct advantages.
Executive chairs are distinguished by their opulent design, high-quality materials, and sophisticated appearance. They have more cushioning and plushness, making for a more comfortable sitting experience. Executive chairs are found in administrative offices, boardrooms, and formal meeting rooms.
Office chairs are created with usefulness, ergonomics, and practicality. To provide optimal support for prolonged sitting, they focus on features such as adjustable chair height, lumbar support, and armrests. Office chairs are often used in office settings for desk work, computer use, and other functions.
Read more: Dining Chair Vs Office Chair
Conclusion
Executive chair vs office chair are both appropriate for working conditions. There are many different kinds of workplace furnishings, but select the one most suits your requirements. If you have any queries or recommendations, please message us. We will get the ideal chair for you.
Are executive chairs good for the back?

Executive chairs can be good for the back. But it depends on the specific design and features of the chair, as well as how well it is suited to an individual's needs and preferences.

What type of chair is best for computer work?

Both executive chairs and office chairs can be suitable options depending on your specific needs and preferences. If ergonomic support, adjustability, and long-term comfort are your priorities, an office chair may be a better choice.

What are some of the best executive chairs and office chairs on the market?

You can select Herman Miller Eames Executive Chair and Steelcase Gesture Chair for executive stools. If you want to buy workplace chairs, you may choose Herman Miller Aeron Chair or Steelcase Leap Chair.