Introducing our wallet friendly home office electric Conset 501-37 standing desk and Ergo-205 Task Chair which offers terrific lumbar support. This is the ideal home office, conference room and office chair. The newest standing desk that is ergonomic for users from 5' tall to 6'3" in both the seated and standing position.
501-37 Standing Desk:
The Conset 501-27 Series is a modern, light design desk at a very reasonable price. The 501-27 is perfect as a free standing desk or home office applications and it exceeds the standards set by ANSI/HFES 100-2007 Human Factors Engineering of Computer Workstations guidelines. In short, this adjustable height desk will accommodate individuals from the 5th to 95th percentile by having a height range from 22" to 48".
** Assembly Required **
Features:
Frame adjusts from 21"- 47"


Frame Width starts at 44 1/8" (32" wide frames available for smaller areas).

Height Range

22"- 48"




Top support bracket dimensions are 17-11/16"

Legs are constructed of steel, feet are 22-1/16" long

Each leg has two adjustable glides

Optional Casters are available, these will add approximately 3" to height of frame

Lifting capacity: 176 Lbs.

Adjusts 1.2" per second

Power supply is 110V

80 Watt AC Power Transformer (consumption: 80 Watts; standby: Less than 1 Watt)

Easy up and down operation with the added safety feature; 2 buttons must be pressed together to avoid accidental operation

"Anti-squeeze" feature; top must be mounted to frame before the desk will go up and down without stopping

Power supply is UL approved for the USA and Canada

Integrated cable management located between support brackets

Frame color: Silver (visible frame parts powder coated in frame color, non-visible metal parts are surface treated - plated)

ANSI/HFES 100-2007 Compliant
Tabletop Size: Rectangle 47 1/4 " wide by 23 5/8" deep. Top is not pre-drilled
Tabletop Color Options:
| | |
| --- | --- |
| Walnut Tabletop | Maple Tabletop |
| | |
Desk Accessories:
Programmable handset: $69.00
The programmable control panel offers the possibility of three individual users to program their own height settings and even with up to three individual height settings per. user. At any time you can use the UP/DOWN buttons to adjust the height of the table without affecting the programmed heights.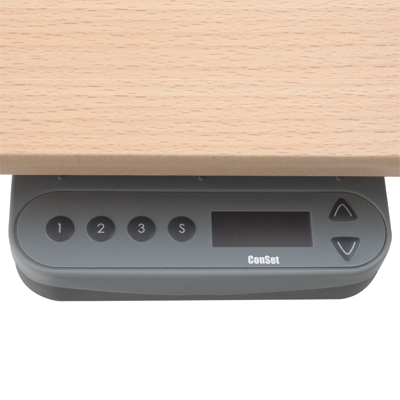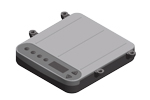 Casters: $49.00
The castor set consists of 4 tunable wheels - all with wheel locks. The wheels are easily mounted using the same threaded hole as used for the adjustable glides. Delivered complete with fittings.
The size of the wheels (75mm diameter) ensures that the table is easy to move.
Battery pack: $139.00
When using battery kits on height adjustable desks on wheels you'll achieve flexibility without compromising on ergonomics. The battery can also be used for desks where wires would simply just be in the way and is easily mounted on existing desks.

The battery kit includes a charger and resembles that of a battery drill. Used in a conventional office setting, the battery will only need to be charged for approximately 2 hours every 2-4 weeks. This is an environmentally friendly type of battery.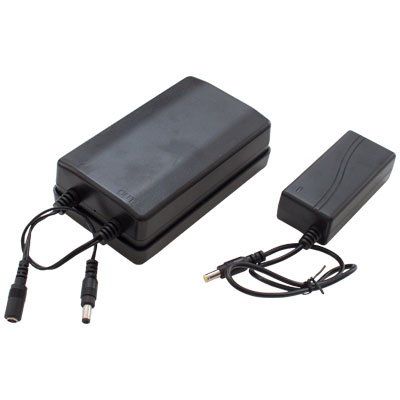 Ergo-205 Task Chair:
Weight Rated: 300lbs
Warranty: 5 years