The All New 501-37 desk base offers a modern open frame design with the capability to travel to an extraordinary low height of 22," which makes 501-37 desk base an ideal in all office, education and home office environments. This Desk base is ergonomic for any user between 5' tall in the seated position and 6'4" in the standing position.

This new desk frame has been tested and approved according to ANSI/BIFMA X5.5-2014.

Built-in multi drive increases the frame's usable capacity. The steel is powder coated. Quick and easy to assemble.

The Desk Price is offered with 501-37 base only.
Features:
Frame adjusts from 21"- 47"


Height Range

22"- 48"

Legs are constructed of steel, feet are 22-1/16" long

Each leg has two adjustable glides

Optional Casters are available, these will add approximately 3" to height of frame

Lifting capacity: 275 Lbs.

Adjusts 1.2" per second

Power supply is 110V

80 Watt AC Power Transformer (consumption: 80 Watts; standby: Less than 1 Watt)

Easy up and down operation with the added safety feature; 2 buttons must be pressed together to avoid accidental operation

"Anti-squeeze" feature; top must be mounted to frame before the desk will go up and down without stopping

Power supply is UL approved for the USA and Canada

Integrated cable management located between support brackets
Desk Accessories:
Programmable handset: $69.00
The programmable control panel offers the possibility of three individual users to program their own height settings and even with up to three individual height settings per. user. At any time you can use the UP/DOWN buttons to adjust the height of the table without affecting the programmed heights.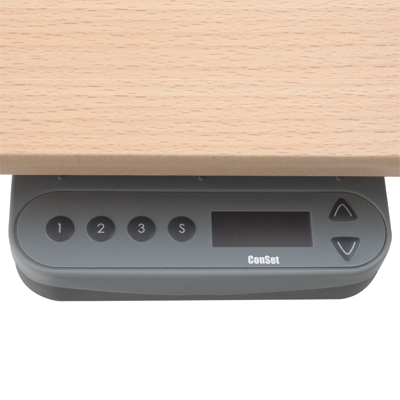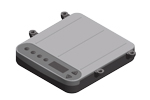 Casters: $49.00
The castor set consists of 4 tunable wheels - all with wheel locks. The wheels are easily mounted using the same threaded hole as used for the adjustable glides. Delivered complete with fittings. The size of the wheels (3" diameter) ensures that the table is easy to move.
Battery pack: $139.00
When using battery kits on height adjustable desks on wheels you'll achieve flexibility without compromising on ergonomics. The battery can also be used for desks where wires would simply just be in the way and is easily mounted on existing desks.

The battery kit includes a charger and resembles that of a battery drill. Used in a conventional office setting, the battery will only need to be charged for approximately 2 hours every 2-4 weeks. This is an environmentally friendly type of battery.